KAI AWASE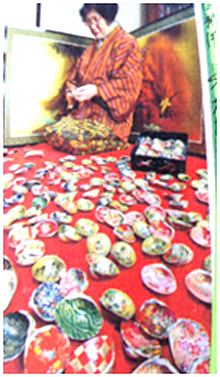 Special guests from Japan to do Kai Awase game together. Mrs. Amano and Mrs. Matsumoto want to say thank you in England to support Tohoku earthquake charity.
Kai Awase is a traditional Japanese game from Heian Period (794-1185).
A half clam shell was decorated and placed outer side-up. The matching half of the design was painted on other half shells and they were turned over one by one by players competing to match pairs.
A poem or miniature painting was added inside each shell in order to facilitate matching, the most popular subjects are flowers and episodes from GENJI MONOGATARI (The Tale of Genji).
Mrs. Amano was awarded her art works by cities and counties in Japan. Kai awase shells are made one by one with different designs. She is also very famous to make a very complicated Origami. So, she would like to demonstrate to make both Kaiawase shells and Origami.
It is free of charge and we are not collecting money for charity.
If you can take your students, friends, and families, we are very happy to welcome you!!
If you have any questions or if you can come,
please contact jp@masayo.co.uk
Date: 22 June 2012, 10am-12pm, 2pm-4pm
Venue: Regency Room, Daiwa Foundation Japan House, 13/14 Cornwall Terrace, Outer Circle, London NW1 4QP
Tel: 07753840353
Email: uk@mmea.co.uk
Web: http://mmea.co.uk
Organiser: M&M English Academy