Kentaro Kobayashi: Mr Potsunen's Peculiar Slice of Life (UK Premiere)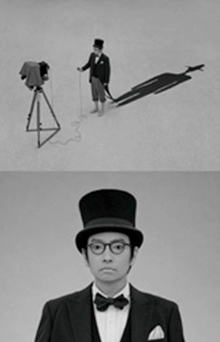 Kentaro Kobayashi, the award-winning Japanese comedian, playwright, performer, is coming to London to unveil his brand new show Mr Potsunen's Peculiar Slice of Life.
Kentaro's theatrical works have been so popular in Japan that hopeful audience members have to draw lots to win the right to buy a ticket! Kentaro has gained fame from a short film series "The Japanese Tradition " showing the funny side of introducing the world to the Japanese traditions has become an internet phenomenon. One of the piece " Shazai " was the official selection for short film competition at Berlin Film Festival in 2007. This will be the first chance for a UK audience to see him perform live on stage!
Having enjoyed major success with his first French tour in 2012, Kentaro returns by popular demand in 2015, and visits the UK for the first time. Brand new for 2015 is a kuroko (literally 'person in black') stage crew traditionally seen in Kabuki theatre.
Kentaro is constantly in pursuit of universal laughter. To achieve this, he employs traditional and new elements of Japanese culture.
Mr Potsunen is a man of loneliness who is obsessed with unimportant things. In his world of highly stylized art, everything is funny, beautiful and perhaps, also a little peculiar. His wordless show dazzles audiences with a theatrically crafted stage and manga-style illustrations designed by Kentaro himself.
Kentaro starred in the 2013 documentary 'The Art of Laughter' (NHK), which chronicled Kentaro's journey towards releasing the show in Europe. This documentary went on to win the 'Creative Excellence Award' at the US International Film and Video Festival.
Date: 3 & 4 February 2015
Venue: Leicester Square Theatre, 6 Leicester Place, London WC2H 7BX
Tel: 08448 733 433
Web: http://goo.gl/rpxPIa
Organiser: mu arts