Kew's Heritage Trees: private tour with artist Masumi Yamanaka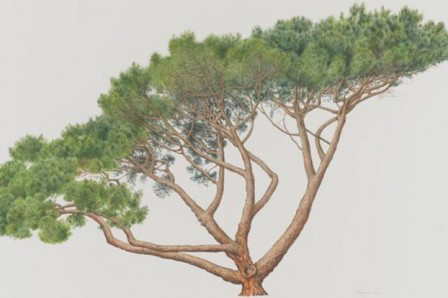 Japan Society members are invited to a private tour of Kew's Heritage Trees: Paintings by Masumi Yamanaka, in the company of the artist. This exhibition brings together 40 paintings of rare trees – superlative specimens, each with their own unique value – by Yamanaka, one of Kew's resident botanical artists.
Kew boasts trees that are ancient, fascinating and historic – some of them date back to 1762 – and Yamanaka's stunning illustrations have captured them in all their mesmerising beauty.
Passes will be sent out in advance, allowing attendees access to Kew's extensive gardens for the whole day. We will meet at the Shirley Sherwood Gallery at 10.30am for the tour beginning at 11am. If demand is sufficient, a second tour will be organised in the early afternoon. When booking, please state if you have a preference for a morning or afternoon tour, and if an afternoon tour is arranged we will do our best to accommodate your preference.
Masumi Yamanaka is an award winning botanical artist currently based at the Royal Botanic Gardens, Kew. She was born in Nara, Japan in 1957, and came to London in 1987 to work for Marks & Spencer as a ceramics designer. During her career as a designer she has worked with many prestigious ceramic manufacturers and retailers, including Royal Doulton, Portmeirion, The National Trust, Vista Alegre and Crate & Barrel.
She subsequently found her true calling as a botanical artist, and won a medal at the RHS London Flower Show at her first attempt in 2002. She is a member of the Royal Horticultural Society and The Society of Floral Painters.
Masumi is entranced by the confounding beauty of the rare and iconic champion trees that grow at Kew. Her works – each of which takes three months – are not only aesthetically remarkable, but are her way of highlighting, from an artist's perspective, the value of trees to the planet's environment. As Masumi says "I'm not a scientist or botanist, so I can't express the detailed science behind the significance and importance of these trees. But I'm an artist, and I hope that through painting these beautiful specimens I can highlight the value of trees in a way that will translate to everyone."
Date: Tuesday 2 June 2015, 10.30 for 11am
Venue: Shirley Sherwood Gallery of Botanical Art, Royal Botanic Gardens, Kew, Richmond, Surrey TW9 3AB