Ki Hyoung Tak Solo Exhibition: Loyalty
MOKSPACE is delighted to host 'Loyalty,' a solo exhibition by Ki Hyoung Tak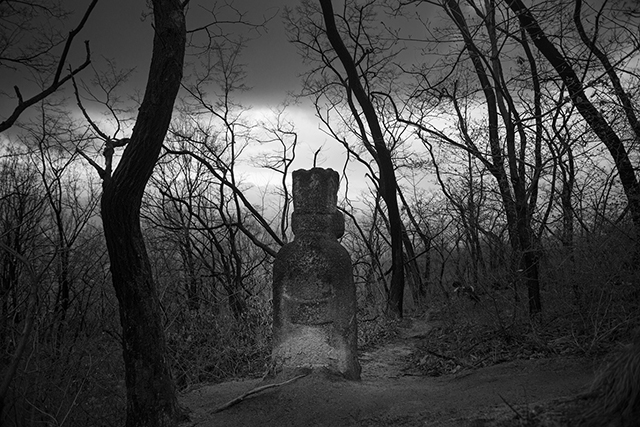 Ten years ago, photographic journalist Ki Hyoung Tak set out to explore a 400-year old burial site at Mount Cho-An in his native Korea. There, ornamental tombstones were built in tribute to the Joseon Dynasty's faithful court subjects, whose adoration and loyalty Tak still feels pulsing through the weathered graveyard.
Neo-Confucianism was a pillar of the Joseon Dynasty (1392-1897), and filial piety was in turn a pillar of (Neo-)Confucianism. Even today in South Korea, over a century after the fall of the Joseon Dynasty, the Confucian concept of filial piety still manifests in yearly memorial services (제사; "Jesa") that celebrate the lives, and mourn the deaths, of lost ancestors.
Yet, as the nation increasingly embraces globalisation and global capitalism, personal acquisitions and achievements perhaps begin to garner more prestige than personal sacrifices and devotion to others. As Tak photographs the royal subjects' gravestones at Mount Cho-An, he mourns what he feels to be the loss of the Joseon Dynasty's noble Confucian values, but simultaneously revives and remakes them for modern viewers.
About the artist:
Ki Hyoung Tak is a Senior Director of Photography at the Seoul-based broadsheet newspaper Hankyoreh Shinmun. After studying for a BA in Photography at Chung Ang University, he began a career as a photographic journalist, with his first post at the daily newspaper Hankook Ilbo. He recently revisited Higher Education for a Masters degree in Photographic Journalism at Sang Myung University, where he now also works as a lecturer. Tak has recently published two photographic essays, and in 2009 he was awarded 1st Prize at the Sang Myung Press Awards, a year after winning an award for excellence in reporting from the Korean Press Reporters Association.
Exhibitions:
2012: 'Photo Journalists' Exhibition ,' Dong Gang Museum of Photography, South Korea
2011: 'A Thousand Years of Friendship with Yangzhou,' Dansung Gallery, Seoul, South Korea
2011: 'Meditate' [Solo Exhibition], Space Lou, Seoul, South Korea
2008: 'Scene from the Sky' [Solo Exhibition], Gallery LUX, Seoul, South Korea
Date: 27th March – 12th April 2014
Venue: MOK SPACE, 33 Museum Street, London, WC1A 1LH