Kimigayo to Japanoise: 160 years of Japan-UK relations in popular music – Akira Imamura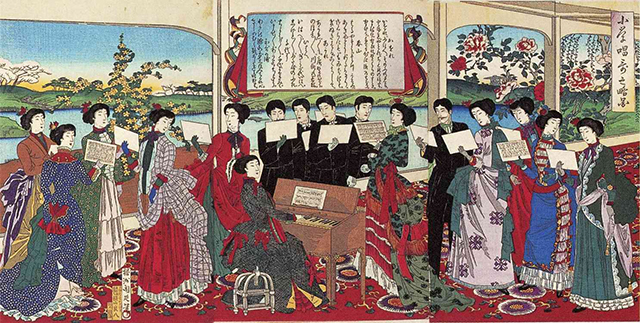 Japan-UK relations in popular music began in 1854, when a military band which accompanied Rear Admiral Sir James Stirling played a medley of English airs in Nagasaki. This first introduction was followed in 1867 by shamisen music, performed by Japanese jugglers in London, which sounded dissonant and jarring to the English audience. However, the 1885 production of the comic opera The Mikado enthralled Londoners, containing at least one example of authentic Japanese music within the Gilbert and Sullivan score.
By looking into a series of fascinating episodes in Japan-UK popular music, Akira Imamura will examine how music has brought the peoples of both countries together. From the story of a British bandmaster who composed the first Japanese national anthem Kimigayo in 1870, to the close collaboration between the members of Yellow Magic Orchestra and the British art rock band Japan in the 1980s, or the creative experiments of Japanoise and dub-step in the 2000s, this lecture explores how music influenced mutual perceptions. What inspiration did musicians find in each other's works? What impact has state policy, technology and other external factors had on musical interaction? How has collaboration in music production deepened over the course of 160 years? These and other questions will be addressed in the course of the evening's talk.
Akira Imamura is Minister and Consul General at the Embassy of Japan in the UK. He was stationed in Moscow three times between the 1980s and 2000s. After graduating from Tokyo University in 1984, he served for the Japanese Ministry of Foreign Affairs. He has served as Director, Russia Assistance Division (2002), and Director, Central and South Eastern Europe Division (2003), in Tokyo. During his last stay in Moscow, he organized numerous Japan-related events as minister of the Embassy in charge of information and cultural affairs including an annual Japanese pop-cultural festival now being visited by thousands of Muscovites. An article by Minister Imamura entitled 'John William Fenton (1831-1890) and The Japanese National Anthem Kimigayo' is due to be published in volume 9 of the Japan Society's Britain and Japan: Biographical Portraits series in 2014.
Date: Monday 19 August 2013, 6.45pm
Venue: The Swedenborg Society, 20-21 Bloomsbury Way (Hall entrance on Barter St), London WC1A 2TH