Kimono de Jack Hanami Picnic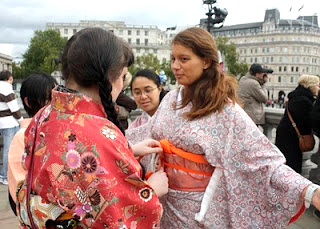 The original Kimono de Jack was held in Kyoto by 11 kimono enthusiasts who thought that there were not enough reasons to wear kimono. They decided to create a reason for people to come together and enjoy wearing kimono and called this event Kimono de Jack. For the first meeting, 40 people came together, but for the second over 100 people showed up. Kimono de Jack quickly became very popular around Japan, with many prefectures creating their own events. The event is free, and there are no rules. Attendees can come and go as they please, and the only things that are required of them are to wear kimono and have fun.
But Japan is not the only one country that could have de Jack, after all the essence of Kimono de Jack is to create more reasons to wear kimono for kimono lovers.
The very first Kimono de Jack in United Kingdom was held on October 23rd in London. Five kimono enthusiasts came to support the event, sporting gorgeous kimono and practical raincoats. It did not rain right away, but when it finally did everyone were very happy to have them on. Please check out the details of event here:
http://kimonodejackuk.blogspot.com/2010/09/first-kimono-de-jack-in-london.html
For April Kimono de Jack we will be going back to Kensington Gardens for our annual Hanami Picnic. Last year we had a blast, so we are eager to return and enjoy yummy food under the sakura trees. Please bring picnic food, blankets, and wear kimono if you have one.
We will meet at 12pm by Albert Memorial, and then make our way to the sakura trees for out picnic.
Anyone is welcome!
Date: 21 April 2012
Venue: Kensington Gardens, East side of the Albert Memorial, London
Email: Kimono_de_jack_uk@hotmail.com
Web: http://kimonodejackuk.blogspot.com/
Web2: http://twitter.com/kimonodejackuk
Organiser: Kimono de Jack UK