Kodo One Earth Tour 2014: Legend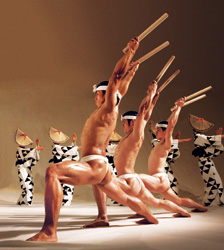 Kodo – the legendary, electrifying Japanese taiko performing arts ensemble – returns to the UK for the first time in 4 years with their most ambitious and spectacular show to date: Kodo One Earth Tour 2014: Legend.
A 29-strong troupe of musicians and dancers from the remote Sado Island in Japan, Kodo transforms centuries-old traditional Japanese ritual and performing arts into exhilarating, contemporary stage shows.
Legend marks a bold new direction for Kodo: New Artistic Director and Japanese icon Tamasaburo Bando has integrated the powerfully intense taiko drumming rhythms with calm and captivating kabuki theatre traditions, alongside new costumes, music and dance routines inspired by cultures from all corners of the globe.
Audiences have the chance to experience the breath-taking combination of electrifying taiko drumming, exquisite musicianship, stunning visuals and pure theatre from Japan's most celebrated and legendary performing arts ensemble.
"Dynamic, electrifying vision ….Nothing will prepare you for the 1,000 lb. drum assault, the precise timing or the wall of sound. An essential experience." Time Out
"Musicians, theatre directors and all interested in the sheer power of sound to feed emotions should take note." The Guardian
15 February: Lighthouse, Poole (0844 406 8666)
17 February: Birmingham Symphony Hall (0121 780 3333)
19 February: Philharmonic Hall Liverpool (0151 709 3789)
20 February: Bridgewater Hall, Manchester (0844 907 9000)
25 February: The Sage, Gateshead (0191 443 4666)
28 February: Brighton Dome (01273 709709)
Date: 15, 17, 19, 20, 25 & 28 February 2014
Venue: Poole, Birmingham, Liverpool, Manchester, Gateshead & Brighton
Web: http://www.kodo.or.jp/index_en.html
Organiser: Kodo