Kodosail Cultural Event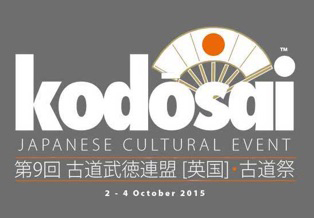 Kodo Butoku Renmei are extremely proud to announce that the Kodosai Cultural Event will be held for the 9th time, once again in Basildon, Essex. The event will be held in partnership with the Essex Anglo-Japanese Society and will once again be held at Holiday Inn, Basildon.
After a truly historic event in 2013, the demand to hold another event has been huge. The continued feedback we have had has been fantastic and now our team are coming together again to stage Essex's biggest Japanese cultural event once more.
The event will be hosted at Holiday Inn, Basildon – meaning that the whole event, including the martial arts training, the Japanese cultural sessions and the celebration events will take place under one roof!
Fee: £5.00 for cultural event, various prices for martial arts seminars
Date: 3 – 4 October 2015
Venue: Holiday Inn Basildon, Waterfront Walk, Festival Leisure Park, Basildon
E-mail: Kodosai@kodosai.org.uk
Tel: 07944380100
Web: http://www.kodosai.org.uk
Organiser: Kodo Butoku Renmei