Korea: FRIDAY LATE With Master Card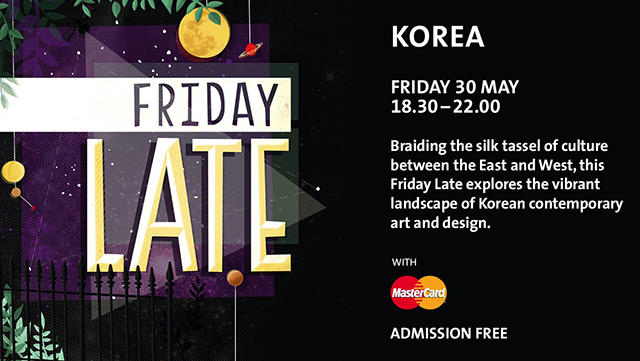 This Friday Late brings Korea to South Kensington. Join us as Korean culture and technological innovation collide and cross-pollinate the galleries. From soap pottery to bojagi sewing, poetry to straw chairs, and K-pop to experimental gastronomy, this event explores the vibrant landscape of Korean contemporary art and design.
ALL EVENING (18.30 – 21.30)
KpopTeam Ltd presents DJ Phat
The ever growing wave of Korean pop music crosses all cultural domains, from viral Gangnam Style videos on youtube, to collaborations with Will.i.am, K-Pop has become a globalised music sensation. Bring your supercute dance routines as DJ Phat floods the museum with K-Pop's sugary tones and undeniable electronic beats.
Complex, Red
Red, represents loyalty, good fortune and wealth in Korea. Borim Jun and Seung Hwan Lee's red beacon will mark the start of your journey through this Friday Late, symbolising the role of red in the broader sweep of Korean culture.
Sung Jang Laboratory
With the head of a bear and the body of a dinosaur, build your own creature using EQB (Emotion Quotient Blocks). Each EQB unit connects to another with Sung Jang's unique 'genderless' snap joints.
Surface Matters
In a world of touchscreen tablets and toasters that send emails, the role of the surface is changing radically. Audio 01 designed by Eunhee Jo is a tangible textural interface. You can control its sound using a fabric interface and feel the surface respond beneath your fingers.
Made Of Chair
Robe yourself in a Hanbok and a pair of Gomusin (both provided!) and take a pew on Made Of Chair. Designer Kim Been's armchair evokes the sensual pleasures of sitting in straw, born out of a romantic sensibility and a realisation of the potential of rice straw, a material otherwise destined for fodder.
TableStitch
Textile Futures graduate Soojin Kang invites you to master the art of traditional jogakbo sewing. With a different take on your usual Friday dinner dining, pull up a chair, sit and stitch the communal cloth to create a beautiful fusion of East meeting West across the table.
Meekyoung Shin
Situated within the Korean Gallery, Meekyoung Shin displays her ornate vases carved from soap. Take inspiration from Shin's work and join her in the Learning Studio to engrave your own moon jar cast in soap.
Junebum Park
Watch filmmaker and video artist Junebum Park take the role of puppeteer as he manipulates the everyday scenes of Korean life. A comical distortion of the urban environment and an exploration of contemporary ideas of space, illusion and control.
3 Crossing (2002) 1.43mins
Puzzle 3-05 (2009) 6.33mins
1 Parking (2001) 5.25mins
Junebum Park is represented by Hanmi Gallery.
The Bridge Korean Drummers
18.45, 19.45, 20.45
Samullori, a form of contemporary Korean percussion, fills the John Madejski garden. Immerse yourself in rhythms from rural folk music (known as P'ungmu), which calls for harmony between heaven and earth!
FROM 19.00
Visualisation of Taste
19.00, 19.30, 20.00, 20.30, 21.00, 21.30
Using synaesthesia as a source of inspiration, designer Jinhuyn Jeon takes experimental gastronomy to another level. Her creation of STIMULI cutlery enriches the eating experience, teasing your senses through texture, colour and sound. This workshop will literally tickle your taste buds.
FROM 19.30
The poet Ko Un
19.30, 20.30 (30 minutes)
Korea's foremost poet and national treasure, Ko Un, will be reading Poems I Left Behind from his collection of Seon poems (a form of Korean Buddhist writing). At the age of 81 Ko Un has been a forerunner for the Nobel Prize in Literature and continues to captivate audiences worldwide. His lyrical poems exquisitely portray the powerful language and philosophically rich culture of Korea. Sir Andrew Motion will be reading the poems in English.
Curated by Jiyoon Lee
Director's Talk: Seok-Ho Yun
20.00- 21.00
Seok-Ho Yun the director of TV series 'Autumn in my heart', 'Winter Sonata', 'Spring Waltz' and 'Summer Scent' has contributed to the explosion of Korean pop culture. Yun divulges the secrets behind the popularisation of Korean love stories, his ideas on 'skinship' and why YSL's Rouge Pur Couture No. 52 lipstick sold out in department stores world wide.
Food & Drink
Drinks are available in the Grand Entrance throughout the evening, and in the John Madejski Garden (weather permitting). Food and drinks will be served in the Cafe until 21.00.
Date: Friday 30 May, 18.30 – 22.00
Venue: Victoria and Albert Museum: Cromwell Road, London SW7 2RL