Lakes International Comic Arts Festival 2016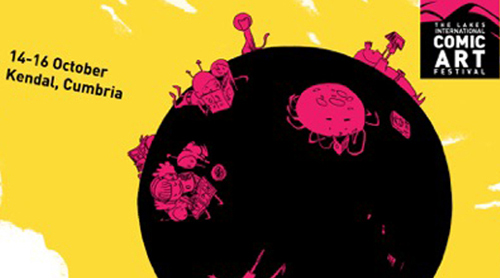 In partnership with Japan Foundation, the Lakes International Comic Arts Festival returns with an exciting line-up of some of the most innovative authors of the new generation of manga artists.
In his exhibition Making a Scene, internationally acclaimed comic artist Ken Niimura provides a glimpse into his diverse portfolio including I Kill Giants, Henshin and unreleased works. These are brought to life through annotations and additional sketches on the Gallery walls.
Ken Niimura also provides a platform for his contemporaries in handpicking five distinct voices for Five Rising Stars from Japan. This exhibition sees upcoming authors Est Em, Takehito Moriizumi, Tsuchika Nishimura, Keigo Shinzo and Miki Yamamoto bringing their artwork to the UK for the first time.
Whilst these exhibitions are on display exclusively over the weekend, events at Lakes International Comic Arts Festival continue until 7th November.
Date: 14 October 2016 – 16 October 2016
Venue: Brewery Arts Centre, Kendal