L'Arc En Ciel in London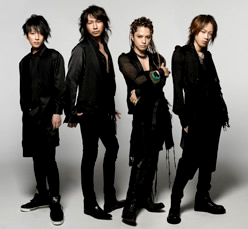 Date: 11 April 2012
Venue: indigO2 At The O2,
Web: http://www.aeglive.co.uk/artists/larc-en-ciel
Organiser: AEG Live
One of Japan's most celebrated bands heads west on their world tour in 2012, making their long overdue UK debut in April, turning London into J Rock central at The O2's indigO2.
Inspiring a fanatical following, L'Arc tends to travel like a big football club, taking the away fans with them. They will bring some of their most passionate supporters from around the world to brighten up London in April, turning the O2 into an authentic J Rock pilgrimage for fans of the genre hungry to see the real thing.
L'Arc-En-Ciel are Japanese rock royalty, returning in May 2011 from a 3 year hiatus with sell out shows in aid of Japanese Tsunami relief. The band celebrated their 20th anniversary with the two-night show "20th L'Anniversary LIVE" at Tokyo's Ajinomoto Stadium to 100,000 fans, proving their position at the centre of Japanese Music.
Formed in 1991 in Osaka, they have since sold 30 million records and set all sorts of Japanese live benchmarks. Specialising in epic pop rock, the band count Nirvana, Radiohead, Ozzy Osbourne and David Sylvian among their diverse influences. Released earlier this year, their spectacular box set 'Twenity' runs the full gamut, from early work to their most recent offerings, taking in goth rock, to jangly guitar pop reminiscent of The Cure's lighter moments and U2-esque stadium anthems.
To register for tickets for the indigO2 show, go to www.aeglive.co.uk