Lecture – How Do We Perceive Art-Through Vision or Cognition? Neuro-aesthetics and Tatsuo Miyajima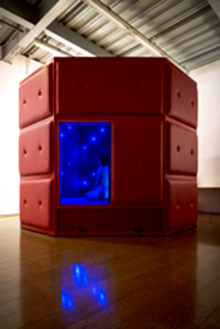 We are pleased to invite Professor Semir Zeki, an expert on visual cognition and neuro-aesthetics, to speak with Tatsuo Miyajima, one of the most prominent Japanese artists practising today and who has been influenced by cognitive science. Conceptual approaches to art are familiar to contemporary audiences, yet there remain fundamental questions of what art is and where it originates. There are also questions of aesthetics when the pieces themselves are participant-centred. If science is able to fully explain the experience of art, does it reduce art's significance?
Miyajima's practice explores the idea of 'time', and our perception of it; representing universal concepts of continuous change, interconnectedness and infinity, which led him to the fundamental belief of 'Art in You'. He explains this concept: "Art works are nothing more than devices to let people encounter, notice and be impressed by something. Artistic experiences and impressions rest inside the imagination of each human being." Most of his current activities are based on this theme.
Since achieving international recognition from the late 1980s, his ideas have been explored in interdisciplinary forms of sculpture and performance (such as the Kaki no ki Project for the Japanese Pavilion at the 48th Venice Biennale 1999, and Peace Shadow). Perhaps his most notable motif is the LED digital counter, presented in various forms, sizes, structures, and durations for the numbers 1 to 99 in no sequential order: a reference to Buddhist ideas of reincarnation.
Date: 20 September 2013, 6.00 – 7.30pm
Venue: Daiwa Foundation Japan House, 13/14 Cornwall Terrace, London NW1 4QP UK
Tel: 020 7486 4348 Fax: 020 7486 2914
Email: office@dajf.org.uk
Web: www.dajf.org.uk
Organiser: Daiwa Anglo-Japanese Foundation