Lee Jeongwoong – Laputa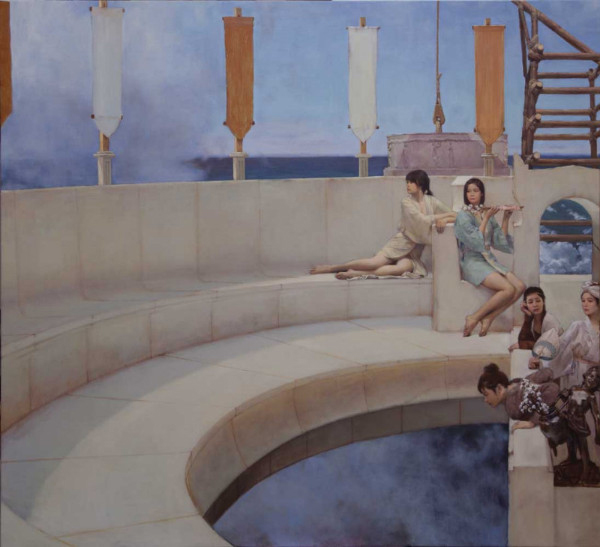 Lee Jeongwoong was born in Seoul, South Korea in 1982. He trained at the Sungkyungkwan University in Seoul. After his graduation in 2008, he participated in several group exhibitions and had two solo shows in major art galleries in Seoul. He is an ardent student of the art of Sir Lawrence Alma-Tadema yet his works reflect his own aestheticism which tests the viewer's mind with complex threads of symbolism and visual experiment.
For modern British viewers, it can be puzzling to see a Korean painter re-creating the style of the eminent Victorian painter with a high degree of technical capacity. While late Victorian art has hardly been introduced into Korea, Lee's close study of artists in the period, such as Alma-Tadema and Waterhouse enables him to create a peculiar vision in 21st century Korea. Just as Victorian aestheticism contrives to attack the senses of the viewer directly with its elevated naturalism, Lee's pictures speak out to the viewer by themselves through exploiting the power of mimesis. At the same time, it is easily noticeable that he does not intend to forge convincing illusions. His figures are collaged and not quite integrated within the same space, and they cannot represent any explicit narrative or theme despite his frequent playing with the titles. Rather his paintings aspire to an abstract quality as he carefully experiments on the formal qualities, such as tone, colour and space with his brush. Lee also uses his technique to crack his own problems and those of his society. The elegant marble set in his pictures is occupied by contemporary Koreans including himself. His attempt to recapitulate the consciousness and experience of himself and his nation through the juxtaposition of symbols of Western ideals (for example, marble) and Korean images might be seen as reversed exoticism. But that is far from the case, as he trained in Western modern art at a Sungkyungkwan University, which once was an ancient Confucian academy; the mentality of modern Koreans is reflected in this visual conundrum. It is impossible to decipher the complexity of the modern experience of the Koreans with one simple logical framework. For instance, the traditional Japanese costumes in his pictures are objects of beauty, yet they simultaneously serve as objects of aversion for the Korean viewers who remember the Japanese occupation (1910-1945). However, his paintings are not merely insipid constructions of a collective memory. The individual concerns of the young artist about life, such as beauty, affection and death, are always circulating on Lee's canvas as the motivating force of his art.
– Antonio Noh (History of Art Ph.D. | University of York) –
Date: 5 – 28 November 2015
Venue: Albemarle Gallery, 49 Albemarle Street. London. W1S4JR