Lianna Jeffery, Flute, with Yukiko Shinohara, Piano on the Isle of Man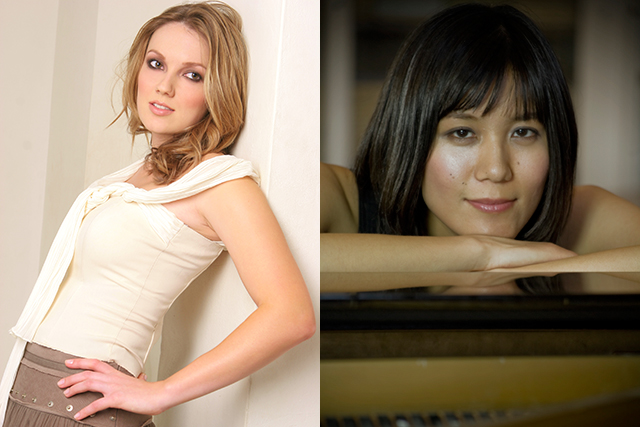 Programme:
C.P.E Bach: Hamburger Flute Sonata in G major
1. Allegretto
2. Rondo-Presto
Pierre Sancan : Sonatine for flute & Piano:
1. Moderato
2. Andante espressivo
3. Animé
Sergei Prokofiev : Flute sonata in D major Op 94
1. Moderato
2. Scherzo: Presto
3. Andante
4. Allegro con brio
INTERVAL
Bohuslav Martinu : First Sonata:
I. Allegro moderato
II. Adagio
III. Allegro poco moderato
Ian Clarke: Hypnosis
Lili Boulanger: D'un matin de printemps
Bourne: Carmen Fantasy
Artist info:
Lianna Jeffery studied at Trinity College of Music where she gained a first-class Honours Degree in Music Performance. During this time she was Runner-Up in the Harold Clarke Woodwind Competition and twice Semi-Finalist in the TCM Soloist's Competition. After graduating she was offered a place at the Royal Academy of Music where she achieved a Postgraduate Diploma with merit. She has had the privilege of studying with eminent flautists such as Celia Chambers, Wissam Boustany, Anna Noakes and Michael Cox.
Since then Lianna has enjoyed a varied career performing as a soloist and in orchestras, as well as forming various chamber ensembles including a Flute & Harp Duo with Anna Wynne and a Flute & Piano Duo with Yukiko Shinohara. Both of these duos perform regularly in recitals, functions and on cruise ships.
Her orchestral experience includes the Britten-Pears Orchestra, City Chamber Ensemble, the National Chamber Orchestra of Wales and the Locrian Ensemble, in addition to a trial with Bournemouth Symphony Orchestra, with whom she regularly performs. Venues for these performances have included the Royal Albert Hall, Cadogan Hall, Winchester Cathedral, St. Martin-in-the-Fields and St. John's Smith Square.
Lianna also played on the Paul Potts UK Tour (Winner of 'Britain's Got Talent').
Yukiko Shinohara was born in Ibaraki, Japan and studied at Tokyo Metropolitan Senior High School for Fine Arts and Music before moving to England to study at Goldsmith's College (University of London) and later at Trinity College of Music, London. She also studied in Frankfurt, Dartington, Darmstadt, Salzburg and Nice. She was a Park Lane Group Young Artist performing a solo recital at South Bank Centre, London, later performing Ligeti's Etudes at the contemporary music festival Composium 2003 at Tokyo Opera City and premiered Britten's early piano works at the Aldeburgh Festival.She has since performed both as chamber musician and soloist in Japan, U.K, Belgium, Holland, France, Greece and Spain.
In recent years her association with the Anglo-Japanese Society of Wessex (AJSW) led her to debut for the AJSW its groups 'Inzpir8tion' (8 hands on 2 pianos: Nov 2011) and with Yuki Negishi '4Tune' (4 hands on 2 pianos: Nov 2014). Through such performances she became an Honorary Member and advisor of the AJSW. At St George's, Bristol May 7th 2015 she reached a new career high with her acclaimed 'Jazz In The Classics' presentation of classical composers using jazz musical expressions in their works.
As a staff member she works with many young musicians at Trinity Laban Conservatoire of Music and Dance (Greenwich) as well as for accompanying and teaching generally and a working professional touring on cruises or as part of Dolce Duo with flautist Lianna Jeffery and holds a senior role at the GéNIA MUSIC Piano Yoga School.
In 2016 there are several key concerts planned including June 2nd a piano quintet for the AJSW at St George's (Bristol) and The Swan, High Wycombe and St George's June 22nd & 24th. On June 2nd Yukiko is involved in another AJSW debut….its AJSW string quartet.
Date: Mon Feb 15th 2016, 7:45–9:30 pm
Venue: Ramsey Music Society, West Building, Ramsey Grammar School, Lezayre Road, Ramsey
Tel: 020 72374445
Email: godfreyking316@btinternet.com
Web: www.ajsw.org.uk
Organiser: Anglo-Japanese Society of Wessex