Life as a Classical Musician in the UK and Japan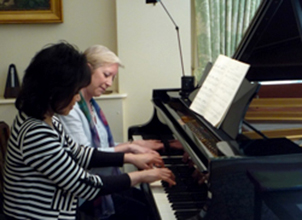 This event brings together two professional pianists and writers – one British and one Japanese – to compare notes on life as a classical musician in the two countries. Japanese classical music has traditionally been an elite pastime, but the Japanese enthusiastically adopted Western classical music in the second half of the 19th Century. Yamaha manufactured Japan's first piano in 1900, and the first Japanese piano piece was written by Rentaro Taki in the same year. Since then, the piano, along with variants like the "electone" (electronic organ) has become Japan's most popular musical instrument, with at least one grand piano in every school hall in the country.
Classical music has deeper roots in the UK, but the environment for musicians is tough in both countries. In Japan, audiences are fragmented between too many concert halls, and the high cost of bringing performers from overseas is straining its musical links with the outside world. In the UK, classical audiences are ageing, and there are concerns that in an age of ubiquitous 5-minute video clips, young people are no longer willing to concentrate for long periods on purely auditory experiences. More easily digestible presentations of classical music like the radio station Classic FM have proved popular, but musicians have mixed feelings about a trend many see as "dumbing down".
Contributors: Susan Tomes, Noriko Ogawa, Dr. Robert Philip (Chair)
Date: 4 April 2013, 6.00pm – 7.30pm
Venue: Daiwa Foundation Japan House, 13 – 14 Cornwall Terrace, London NW1 4QP. Nearest tube: Baker Street
Tel: 020 7486 4348
Email: office@dajf.org.uk
Web: http://www.dajf.org.uk
Organiser: The Daiwa Anglo-Japanese Foundation