Like A Prime Number by Enrico Isamu Oyama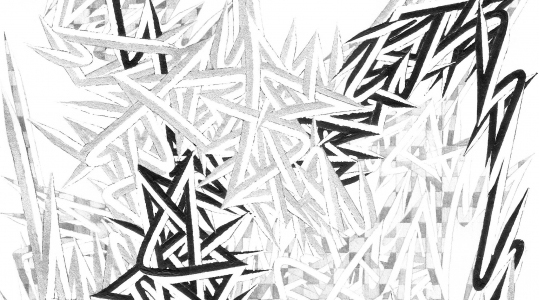 The Daiwa Anglo-Japanese Foundation presents Like A Prime Number, the solo exhibition by Japanese-Italian visual artist Enrico Isamu Oyama.
Oyama is best known for the signature style Quick Turn Structure (QTS): minimal, free-flowing motifs of repetitive lines, developed from the visual language of graffiti culture and contextualized in the realm of contemporary art.
QTS is perceived by the artist as an infinite driving force with its own life; one that inhabits a higher dimension invisible to us. As a mediator, the artist temporarily summons QTS into the physical world and captures the fragmented imprints of its unstoppable motion, visualizing them on a plethora of surfaces. These include not only physical objects such as walls, canvases and papers, but also digital, conceptual and social platforms such as videos, live performances and collaborations with fashion brands.
Whilst the overall picture of QTS itself remains unseen, its physical manifestations are channelled into unique art pieces from one specific moment in time. These pieces are called FFIGURATI, a term coined by the artist referring to the word "graffiti" and the Italian expression "figùrati" (literally translated as "figure it out yourself"), numbered in the order of their creation.
Oyama envisions each FFIGURATI like a prime number. Although they are both a part of an infinite continuous entity larger than themselves, they are simultaneously brought to this world as specific, one-time-only singularities generated out of the metaphysical continuity. Discovering a pattern within the neverending series of prime numbers has been a longstanding mystery in the history of mathematics; similarly, pinpointing the structure and form of QTS is something even the artist himself is not fully aware of.
Date: 26 February – 11 April 2016
Venue: Daiwa Foundation Japan House, 13/14 Cornwall Terrace, London NW1 4QP UK
Tel: 020 7486 4348
Email: events@dajf.org.uk
Web: www.dajf.org.uk
Organiser: Daiwa Anglo-Japanese Foundation