Like Asura 阿修羅のごとく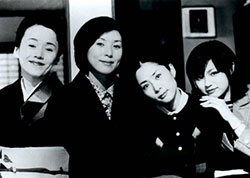 Four sisters from the Takezawa Family gather for the first time in a long while upon learning their seventy-year-old father has a mistress and a love child. The quartet decides against letting their old mother know about it, and takes the opportunity to reveal their own problems to each other.
The oldest sister, Tsunako, has been having an affair while the second oldest, Makiko, knows her husband has a younger girlfriend. The third sister, Takiko, is painfully shy, and the youngest, Sakiko, got married to a struggling boxer after finding out she was pregnant. One day, Makiko unexpectedly sees the mother standing silently in front of the mistress's house, staring at the door. What happens next? Later, the sisters find a letter their late mother wrote long ago to a newspaper
The film is based on a story by the late Kuniko Mukoda, who was widely known in Japan as a TV scriptwriter, an essayist and a novelist, and bequeathed many works featuring everyday family life.
Date: 5 November 2015, 6.30pm
Venue: The Embassy of Japan in the UK, 101 – 104 Piccadilly, London W1J 7JT
Web: http://www.uk.emb-japan.go.jp/en/event/films/films_booking.html
Organiser: The Embassy of Japan in the UK