London Korean Film Festival: The Dinner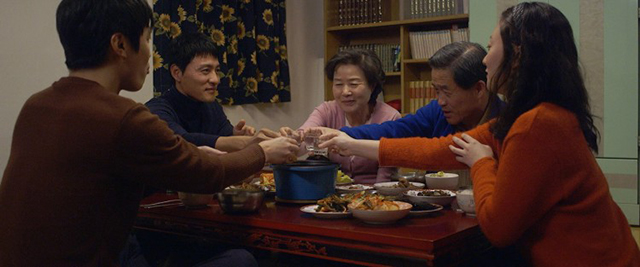 Meet your everyday family: an ailing divorced single mom daughter; the youngest son a chauffeur; an eldest son who tries to keep the family together and their impoverished older parents who are always reluctant to ask them for money. Since retiring an elderly couple only meager income comes from small amounts from their children all of whom have forgotten their mother's birthday. The oldest son, In-cheol worries about his livelihood after early retirement after seeing what has become of his parents. In-cheol's wife, Hye-jeong experiences her own problems due to infertility. The youngest son, In-ho struggles with money problems as well as he tries to save money by doing freight and chauffeur service work, but it is never enough to repay his student loan. The only daughter, Gyeong-jin is a single working mother who is always busy herself in raising her own son with autism and battles her ex-husband over custody. Each family member have their own burdens to bear but when more misfortune befalls them will the family be able to survive?
The Dinner has been heralded for its unashamedly depiction of realism. Through one family director Kim Dong-hyun (A Shark, Hello Stranger) creates a cutting true representation of Korean society. Not unlike the British filmmaker, Mike Leigh with Another Year or Life is Sweet this kitchen sink drama is both touching and revealing about contemporary life and its problems.
Date: Friday 14th November 20:30
Venue: Odeon Covent Garden