London Korean Film Festival: Pieta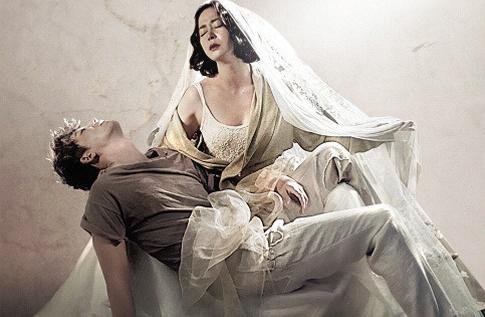 An unnamed man works as a loan shark for moneylenders, often threatening or harming people when they are refuse to pay their debt. This is a man, without family, believes he has nothing to lose and no responsibly to another human being. Because of this he has no problem with, and even enjoys, inflicting pain on others. Out of the blue a woman enters his life, one that claims to be the Mother that abandoned him as a child. Though skeptical to begin with, the Man quickly accepts the news and the two begin a bizarre familial bond. The newfound family forces the Man to confront his more sadistic tendencies and change his life for the better looking to earn his Mother's love. As sudden as her appearance the Mother is gone again, kidnapped. The Man, thinking the person responsible is someone that he has hurt in the past hunts them all down relying on his brutal side to find the person responsibly. When he finally finds the one, he uncovers a horrifying truth that could destroy him.
Pieta, meaning pity in Italian, is not just the return to narrative filmmaking from director Kim Ki-duk after a prolonged absence but also the return of the Cheonggyecheon to Kim's films. An industrial area of Seoul it is every much a living breathing character in Kim Ki-duk's films than any actor. As a teen director Kim visited the area for work when all the other children were in school. The area is the epitome of all of Kim Ki-duk's films as it houses the real forgotten social outcasts that features in films such as Crocodile, Bad Guy and Samaritan Girl.
Please book here on Odeon Website!
Date: Friday 7th November 18:00
Venue: London Odeon West End