London Korean Film Festival: Poetry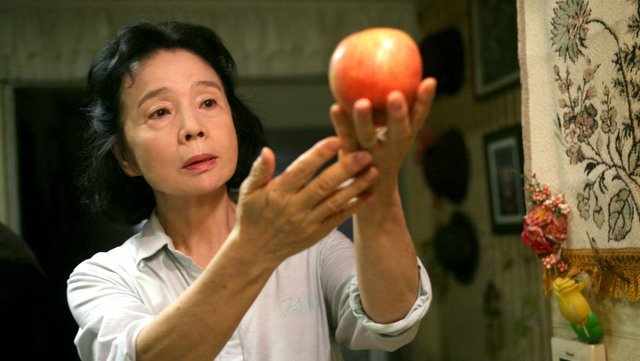 Mija lives along the Han River with her teenage grandson in a small suburban city. She is a dandy old lady who likes to dress up in flower-decorated hats and fashionable outfits, but has an unpredictable attitude and inquisitive mind. On a whim Mija enrolls into a poetry class in the neighborhood cultural center and is challenged to write a poem for the first time. Believing that there is nothing in her life to inspire her wish to write poems, she sets out on a quest for poetic inspiration. Mija becomes an observer of the everyday, the beauty in the things that everyone takes for granted. With this, Mija is delightfully surprised that she has a newfound excitement over discovering sights and experiences as if for the first time. But some unexpected news brings her crashing down to a the harsh reality she had escaped. Mija has to confront the idea that perhaps life is not as beautiful as she had thought.
Filmmaker Lee Chang-dong has written and director a slew of award winning films including, Green Fish, Oasis, Secret Sunshine and Peppermint Candy. A number of these films have focused on the incredible performances of its female leads with Moon So-ri and Jeon Do-yeon winning accolades around the world. Poetry is no different with a subtle yet stirring performance from actress Yun Jung-hee as the aspiring poet battling against a stark reality.
Q & A with producer, Lee Jung-dong
Date: Tuesday 18th November 19:45
Venue: Hebden Bridge Picture House