London Korean Film Festival: Revivre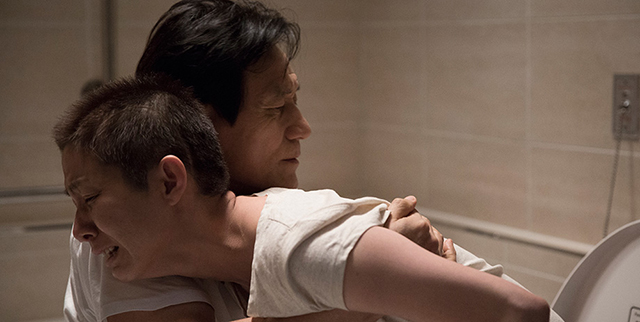 I want to reveal the pain and love embedded in one's heart through HWAJANG (Revivre). Everyone carries love and an inner life that is hard to express. – Im Kwon-taek
Mr Oh, a marketing executive at a major cosmetics company struggles to juggle corporate life while caring for his ailing wife. Over the last four years his wife's health has steadily and painfully deteriorated and it has become apparent that her time is short. Though Mr Oh is an extreme devoted husband he is distracted by the launch of a new seasonal range of cosmetics by his company and an alluring young co-worker, Ms Choo. When his wife finally subcomes to her disease he is troubled by his lack of focus and daydreams, not about his dearly departed wife but that of the sensual Ms Choo. Confused, Mr Oh does not know how to balance his newfound passion and his profound grief over his wife.
With an adaptation of one of Korea's most beloved novels, Hwajang, Im Kwon-taek returns with his 102nd feature. Revivre is an incredibly touching and heartfelt story which carries on the themes and ideas of life, death and sexuality that the director has been fascinated with since his debut feature Farewell To The Duman River in 1962. Portraying Mr Oh is 'Korea's Most Beloved Actor' Ahn Sungki making Revivre the actor's sixth film in collaboration with Im Kwon-taek.
Director Im Kwon-taek born in 1936 has been working tirelessly ever since his first film Farewell To The Duman River in 1962 and has become one of the world's most important filmmakers amassing 102 films as a director. Over the last 52 years he has embraced numerous genres including war, period-pieces and action with being most known for the General's Son trilogy and Chihwaseon. Many works of his have invited to and have won major awards at international film festivals,. In 1993 the director's film Seopyeonjae became the first film to hit the 1 million admissions mark in Korean cinema history.
Q & A with actor Ahn Sungki
Date: Friday 21st November 20:15
Venue: Aberystwyth Arts Centre