London Korean Film Festival: The King of Jokgu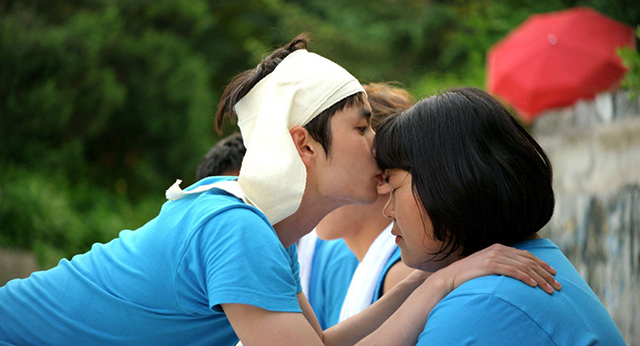 Man-seob used to be the king of Jokgu, a fusion of football and volleyball. He was infamous for his unstoppable foot spike while serving in the army. He returns to school after completing his military service only to find the Jokgu court has been removed. He inquires to why the court has been removed to anybody that will listen but discovers that no one cares. Everyone is too preoccupied with finding a job and their careers, all sense of romantic or fun notions has vanished. Man-seob meets Anna, the school queen, who he falls in love at first sight. To win her heart he relies on what he does best and looks to organise a Jokgu championship.
Filmmaker Woo Moon-gi whose short films include The Boy Physics and Lost in Transportation, has shown a unique talent in 'exquisite combination of sensitive character comedy and sharp satirical drama' have competed well at numerous film festivals. Not only a talented director, Woo Moon-gi has turned his hand to a number of other areas in filmmaking including contributing as an art director of Sunshine Boys, a director of a music video for musician 'Peppertones', and an actor in short and feature films such as The Legacy.
If you are interested in a earnest, coming of age comedy with a little bit of sport thrown in then The King of Jokgu is the film for you.
Ticket sales online!
Date: Wednesday 12th November 18:30
Venue: Odeon Covent Garden