London Korean Film Night: Two Cops (1993)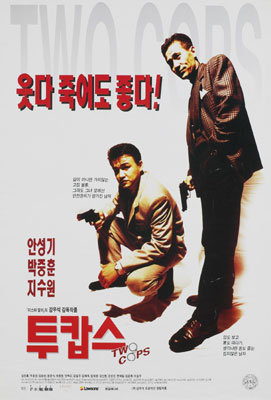 The experienced detective Jo has a new colleague, Kang who recently graduated from the Police Academy at the top of the class. The idealistic Kang always sticks to his principles and often conflicts with Jo, an amoral cop who always tries to take advantage of his position. Kang tries to win Jo over to his side but fails. One day, a beautiful woman who works in a bar comes to the police station for help, and Kang falls in love with her. Kang visits the bar often to see her and becomes more like Jo. Jo is initially pleased with this, but later feels a dilemma with Kang's change in attitude.
* Prior to the screening of Two Cops, there will be a mini-lecture by Dr. Jinhee Choi (Senior Lecturer, Film Studies, King's College London) "Kang Woo-suk and the Local Comedy of 1990s". Further information will be posted on our Notice & Information.
Director: Kang Woo-suk
Running Time: 110
Screening Date: February 26, 2015
Theatre: Korean Cultural Centre UK