Makoto Nomura: Workshop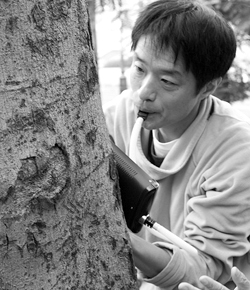 This summer, Hayward Gallery transforms into Wide Open School (11 June – 11 July). More than 100 international will lead lead workshops, collaborative projects, lectures and seminars on subjects that inspire them. This is a unique opportunity find out how artists think about and question things and to observe their creative processes.
3 July 2012, 10am
Music and physical movement
Japanese composer and musician Makoto Nomura leads a workshop for anyone who enjoys moving their body, as well as for musicians and dancers.
Participants explore entertaining and enjoyable physical exercises as ways of playing musical instruments. The class then has an opportunity to put their new learning into practice by playing Southbank Centre's Javanese gamelan – a traditional Indonesian musical ensemble composed of various tuned percussion instruments.
4 July 2012, 10am
Mistakes and Misunderstandings in Music
Communication is an important part of all human activity. Makoto Nomura notices how in everyday life communication often entails wonderful creative misinterpretations and errors.
This workshop concentrates on how we can deviate from musical convention by making such mistakes and misunderstandings intentionally and unintentionally. Mischief and nonsense ideas are invited! Participants use Javanese gamelan instruments but are also welcome to bring their own instruments.
5 July 2012, 10am
Wide Open Score
In this workshop, Makoto Nomura explores strange, enjoyable and entertaining music without using conventional musical notation. Creaky noises, energetic free rhythm on percussion, tone-deaf singing, and other such peculiar forms are explored. How can we make a score for such wide open music? Nomura explains his own method of collaborative composition, 'Shogi Composition', and encourages participants to explore their own way of notating music. No musical knowledge is required for this workshop. Participants can bring their own instruments and also have access to Javanese gamelan instruments. This workshop concludes with a mini-concert.
There are no entrance exams or application forms. You just need to use your intelligence and enthusiasm in unusual ways. Tickets and full programme www.wideopenschool.com / 0844 847 9910
Date: 3, 4 & 5 July 2012, 10am
Venue: Hayward Gallery Lecture Theatre, Southbank Centre Belvedere Road, London SE1 8XX
TEL: 0844 847 9910
Web: http://wideopenschool.com/artist-classes-main/by%20class
Tickets: £10
Organiser: Hayward Gallery, Southbank Centre