Mandakhtuya Dorj – piano recital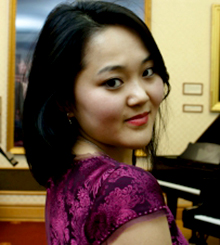 Programme
N. Jantsannorov: White Stupa No.1
Janacek Sonata: 'From the Street'
George Crumb Excerpts from Makrokosmos:
No.1 Primeval Sounds
No.2 Proteus
No.7 Music of Shadows (For Aeolian Harp)
No.10 Spring Fire
Chopin Ballade No.1 in Gminor
Artist info
Mandakhtuya Dorj started her musical career at the age of five. She later attended Music and Dance College in Ulaanbaatar, Mongolia before arriving in the UK to continue her studies at the Junior Academy of the Royal Academy of Music, London. Manda was fortunate enough to receive a full scholarship for duration of her four year course and during her time at the Academy, studied with Professor Patsy Toh.
As a soloist, Manda has many well received recitals at the Duke's Hall at the Royal Academy of Music, Ripon Cathedral, Salvation Army Hall in Oxford Circus in London, RNCM Concert Hall, Holland Park School for Mikhail Gorbachev, and Festival Hall in Mongolia in front of the president of Mongolia. She has performed across the UK.
During her time at the RNCM, Manda has learnt so much through participating in all the music festivals and as well as attending the master classes from the top artists such as Andras Schiff, Imogen Cooper, Alfred Brendel, Steven Osbourne and Steven Hough. In February 2010, she had the privilege to meet Murray Perahia at the Bridgewater Hall, Manchester.
She has won numerous international prizes in Mongolia, France and in the UK. She has completed her BMus Degree with Honours and was awarded the title of Musicale at the Royal Northern College of Music, Manchester, under the tutelage of the Deputy Head of Keyboard Study, Helen Krizos. Manda has been kindly awarded an Entrance Award throughout her study at the RNCM.
In her spare time, Manda likes to go to concerts, theatre, read books and spend time with friends and family.
Date: Wed Aug 14th 2013, 1:10–2:00 pm
Venue: St. Sepulchre, the Musicians Church, Holborn Viaduct, London EC1A 2DG
Organiser: The Anglo-Japanese Society of Wessex