Mandakhtuya Dorj – piano recital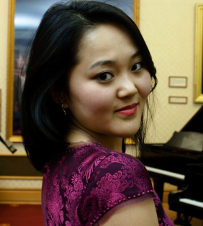 Programme:-
Chopin Ballade No.1 G Minor
Beethoven 32Variations C Minor
B.Sharav:
"I want to go to the Bright Horizon"
"Dance of the Sun"
"Fog"
Mendelssohn "Variations Serieuses" Dminor
Artist info:
Mandakhtuya Dorj started her musical career at the age of five. She later attended Music and Dance College in Ulaanbaatar, Mongolia before arriving in the UK to continue her studies at the Junior Academy of the Royal Academy of Music, London. Manda was fortunate enough to receive a full scholarship for duration of her four year course and during her time at the Academy, studied with Professor Patsy Toh.
As a soloist, Manda has many well received recitals at the Duke's Hall at the Royal Academy of Music, Salvation Army Hall in Oxford Circus in London, RNCM Concert Hall, Holland Park School for Mikhail Gorbachev, and Festival Hall in Mongolia in front of the president of Mongolia.
Manda is keen to explore contemporary piano repertoire. Her recent well received recital was playing George Crumb Makrokosmos Vol.1 at the RNCM American Festival.
During the time at the RNCM, Manda has learnt so much through participating in all the music festivals and as well as attending the master classes from the top artists such as Andras Schiff, Imogen Cooper, Alfred Brendel, Steven Osbourne and Steven Hough. In February 2010, she had the privilege to meet Murray Perahia at the Bridgewater Hall, Manchester.
She has won numerous international prizes in Mongolia, France and in the UK. She has just completed her BMus Degree at the Royal Northern College of Music, Manchester, under the tutelage of the Deputy Head of Keyboard Study, Helen Krizos. Manda has been kindly awarded to complete her study at the RNCM with the support of the College.
In her spare time, Manda likes to travel, read books, hike in the countryside with friends and family.
Manda is currently living and working in London.
Date: Tue Mar 25th 2014, 1:15–2:00 pm
Venue: Bristol Cathedral, College Green, Bristol, BS1 5TJ
Tel: 020 72374445
Email: godfreyking316@btinternet.com
Web: www.ajsw.org.uk
Organiser: Anglo-Japanese Society of Wessex