Marta Dourado – cello and Ikuko Inoguchi – piano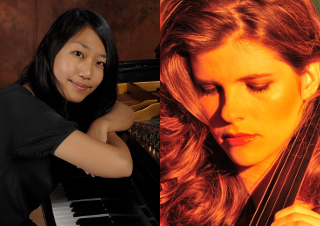 Programme:
Prelude: J.S. Bach (Arranged by Zoltán Kodály)
Two Cantilenas: Camargo Guarnieri (1907-1993)
I. Calmo e Triste
II. Muito tranqüilo
Orion: Toru Takemitsu (1930-1996)
Sonate No II, Op. 58: Felix Mendelsshon (1809-1847)
I. Allegro assai vivace
II. Allegretto scherzando
III. Adagio IV. Molt Allegro e vivace
Artist info:
Marta Dourado started her musical studies in Brazil at the main conservatoire of Sao Paulo. In the course of her carrier, she performed as a cellist at venues such as Municipal Theatre of Sao Paulo, The Sesi Halls, Memorial of Latin America and Sala Sao Paulo. Marta collaborated with many professional orchestras in Brazil. In London she was part of University of London Symphony Orchestra, I Maestri, amongst others. In the UK, she performed in venues such Union Theatre, St. Stephen's church, Ealing Green Church, Victoria Hall, Derngate – Northampton, St. Peter's church (Saint Albans), ST. Giles in the fields, St. Peters church (Kensington) – among others.
Marta holds a Bachelor's degree in cello from State University UNESP (Brazil), a Master's degree in music from Royal Holloway (University of London) and is currently pursuing a Doctorate in music at City University of London. She receives guidance from the internationally renowned cellist Richard Markson. Currently, she has been working as a chamber musician, solo performer, freelancing cellist, orchestral musician and cello coaching.
Acclaimed for her "subtle sonority and fascinating colorful tones," the pianist Ikuko Inoguchi has quickly explored the performing platform in Europe since she moved to the UK in 2009. Her recent performances have taken place in London, Reading, Nottingham, Cantu, Leipzig, Saarbrücken, Würzburg, and Bucharest. Recently she made her concerto debut with CUSO under the baton of Anthony Weeden. She is a prize winner of several national and international competitions as well as a recipient of numerous fellowships and scholarships, and has enjoyed international appearances as a soloist and chamber musician in Europe, the United States, and Japan. This also includes a recital at St. Martin-in-the-Fields. In 2003, she was selected as the youngest soloist to perform at the Oto-no-Tobira recital series at Sazanka Hall, Nara, Japan, and also performed at the recital celebrating its 10th anniversary. During her master program at UCLA, where she worked with Prof. Vitaly Margulis, she performed recitals as a Gluck fellow throughout Southern California.
Before moving to the UK, Ikuko completed her Doctor of Musical Arts degree in Piano Performance at the University of Colorado, Boulder, under the guidance of Dr. Andrew Cooperstock. While studying, she also served as a Lecturer in Piano and Teaching Assistant for accompaniment at the university. Upon graduation, she was selected as the recipient of the MTNA StAR Award recognizing her "academic achievement, successful teaching experience and leadership abilities."
During 2010-2011, she held a Visiting Scholar Fellowship at the Institute of Musical Research, comprising the School of Advanced Study at the University of London. Bringing artistry and scholarship together, her performance-based scholarly work led her to present a lecture-recital entitled "Circulating Images, Circulating Sounds: Aesthetics and Ideas in the Water Pieces of Debussy and Takemitsu" at regional and national conferences, such as the prestigious College Music Society, in the United States. In January 2013, she presented her paper, "Performing T?ru Takemitsu's Rain Tree Sketch" at "Music from Japan" conference, programmed to complement BBC Symphony Orchestra's Total Immersion: Sounds from Japan. In November, she was also invited to give a lecture-recital at the Takemitsu Society.
Ikuko also performed at master classes led by internationally renowned artists, such as Malcolm Bilson, John Lill, Elena Edelstein, Eric Larsen, and Inge Rosar.
Ikuko is currently pursuing her PhD at City University London under the guidance of Ian Pace. She is also working with Prof. Gordon Fergus-Thompson of the Royal College of Music.
Date: Wed Feb 26th 2014, 1:10–2:00 pm
Venue: St. Sepulchre, the Musicians Church, Holborn Viaduct, London EC1A 2DG
Tel: 020 72374445
Email: godfreyking316@btinternet.com
Web: www.ajsw.org.uk
Organiser: Anglo-Japanese Society of Wessex