Masachi Nishiyama Piano Recital at Leighton House Museum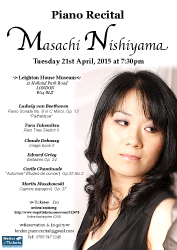 Masachi Nishiyama is increasingly gaining recognition for her work both as soloist and as a collaborative pianist. She has performed at numerous prestigious venues in the UK and Japan and peformed at many music festivals worldwide. She has gained special distinctio for her many performances of Bach's 'Goldberg Variations'. Her wide repertoire includes music up to the present day and she is an extremely active collaborative musicians, recently she has performed Beethoven's all sonatas for piano and violin at a concerts in London.
Masachi studied at Toho Gakuen School of Music in Tokyo, The Royal Academy of Music and The Royal College of Music in London. Her main teacher has been Hidemitsu Hayashi, James Lisney and Yonty Solomon. www.masachinishiyama.com
*Leighton House Museum is the former home of the Victorian artist Frederic, Lord Leighton (1830-1896). The only purpose-built studio-house open to the public in the United Kingdom, it is one of the most remarkable buildings of the nineteenth century, containing a fascinating collection of paintings and sculpture by Leighton and his contemporaries.
Date: 21 April 2015
Venue: Leighton House Museum, 12 Holland Park Road, London, W14 8LZ
E-mail: london.piano.recital@gmail.com
Web: http://www.rbkc.gov.uk/subsites/museums/leightonhousemuseum1.aspx
Organiser: Masachi Nishiyama