Masachi Nishiyama – piano with Ekaterina Lazareva – viola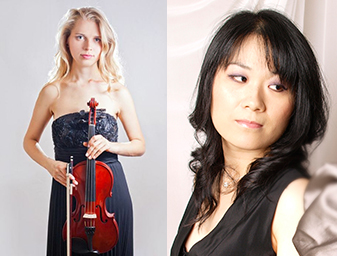 Programme:
J. Brahms: Sonata for viola and piano op.120 no.2 E flat major:
Allegro amabile
Allegro appasionato
Andante con moto
R. Schumann: Marchenbilder for viola and piano op.113
( Nicht schnell,Lebhaft,Rasch,Langsam)
Y. Bowen: Phantasy for viola and piano op.54
Artist info:
Ekaterina Lazareva was born in 1985 in Belarus. From 2000, she began to study viola with Prof. L.L. Lastovka and from 2004 was her student at the Belarusian State Academy of Music. Between 2003 and 2007 she won prizes at the E. Kohu Internation Music competition in Chisinau, Moldova and at the International Competition for Strings in Kiev, Ukraine. In 2009 she won 3rd prize with her string quartet at the International Chamber Music competition in Smarghon, Belarus. Ekaterina actively participates in the cultural life of her country and has been performing as a soloist in Belarusian Philarmonic. She was also an exhibitioner of a special presidential fund for the support of youthful talent. In 2009 she moved to London to pursue her solo and chamber career. Since then, she has given a number of lunchtime solo and chamber recitals at such places as St. John's and St. Peters Church in Notting Hill, St. Alfege Church in Greenwich, All Saints Church in Kingston, at the Guildhall School of Music and Drama, The Orangery in Holland Park, Beck Theatre, Bridewell Theatre and at such festivals as The Little Proms and Earl's Court Festival, as well as a number of recitals with the Schnittke String Trio in the Netherlands. Additionally, she is a member of various London orchestras, such as I Maestri, with whom she travelled to The Sacred Music Festival on Patmos, Greece, as well as the London Chamber Players, Firebird and Russian Virtuosi of Europe. She has taken part in master-classes with Yuri Bashmet, Yuko Inoue, Yuri Zhislin and worked with conductors, such as Colin Davis, James Gaffigan and James Judd.
She has performed at Cadogan Hall, St. John's, Smith Square, St. George's Hannover Square, St. Paul's Covent Garden and St. Giles-in-the-Fields. In December 2011 Ekaterina has played solo with I Maestri orchestra, conducted by Krzystof Chorzelski, in St. Mattheus Church. In 2010 she was generously awarded with a full scholarship by the Guildhall School Trust to study on the Master of Music in Performance Orchestral Training course at the Guildhall School of Music and Drama where she studied with Krzystof Chorzelski, the violist of the Belcea Quartet. In 2011 she was awarded a full 2011/2012 academic year scholarship by the Levelhulme Trust, which allowed to continue her studies at the Guildhall. In 2012 she received an Anatole Mines & Anthony Elt Award enabling her to pursue further studies at the Royal College of Music, where she became a graduate of the Artist Diploma course in performance led by Yuri Zhislin.Ekaterina is kindly supported by the Guildhall School Trust, the Levelhulme Trust and the Anatole Mines & Anthony Elt Award.
Born in Japan, Masachi Nishiyama studied at the Toho Gakuen School of Music, graduating with B.Mus degree Shecame to London in 1999 where she studied piano at the Royal Academy of Music and she pursued further study atThe Royal College of Music and she was awarded the Diploma of Advanced Performance and concluded her studiedby becoming a finalist in the prestigious Chappell Gold Medal competition.
She is very grateful for the personal guidance she has received from such eminent musicians as James Lisney, YontySolomon, Hidemitsu Hayashi. Jacque Rouvier, Sergio Perticaroli, Joseph Seiger, Clifford Benson, John Barstow,Andrew Ball, Simon Nicolas, Andrew West, Vanessa Latarche, Gordon Fergus-Thomposon, Nelson Goerner,Alexander Baillie (cellist), Richard Markson(cellist), Paul Barritt (violinist).
She is currently the artist director of Marlborough Recital Series at Schott Music in London. Also, she is related to themanagement of Hokusai Orchestra.
Date: Wed Mar 12th 2014, 1:10–2:00 pm
Venue: St. Sepulchre, the Musicians Church, Holborn Viaduct, London EC1A 2DG
Tel: 020 72374445
Email: godfreyking316@btinternet.com
Web: www.ajsw.org.uk
Organiser: Anglo-Japanese Society of Wessex