MASAKI BATOH – BRAIN PULSE MUSIC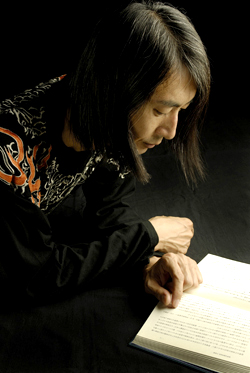 Maskai Batoh – perhaps best known as the singer and guitarist for legendary Japanese psych folk ensemble GHOST – presents a live performance of his Brain Pulse Music in Octaphonic sound… BRAIN PULSE MUSIC is the result of years of research into the bioelectric functions of the human brain combined with the traumatic aftermath of Japan's Great East Earthquake.
When Batoh initially conceived the idea for this project, it was purely out of interest to realize music from extracted brain waves. There have been perform- ers in the past who have made similar claims, but they have utilized electric current, static electricity and blood flow volume in the brain. BRAIN PULSE MUSIC is contrived from brain waves, in the purest sense of the word. Notes included in the album package further explain the science behind Batoh's methods. Batoh's intention was to create a machine, similar in function to an effects pedal, which would interface with the brain waves in a therapeutic way allowing the user to make adjustments to normalize brain wave levels. This could prove to be an effective means of treating depression and anxiety disorder but could also help everyone else get their righteous heads together as well.
The album was to be made entirely of BPM machine music; the Great East Japan Earthquake of March 11, 2011 altered this plan while emphasizing the importance of it's deepest concern. The recording session was postponed as the studio was closed due to aftershocks that continued to shake the grounds of Tokyo. Scheduled blackouts and radioactive contamination forced residents to temporarily evacuate the city. Although Tokyo is some 230 km away from the crippled Fukushima Daiichi Nuclear Plant, radiation levels reached above 0.34μSV and placed the city under serious danger. Meanwhile, thousands of lives were lost, and the stricken northern regions of Japan were devastated.
Since that day, patients complaining of mental instability increased at Batoh's acupuncture clinic, and people were ridden with anxiety. With his family still in evacuation as he concentrated on treating his patients, the concept of this album slowly began to come into focus. What was initially to be an austere demonstration of experimental bio-electric procedures was fully realized as part of Batoh's ongoing effort to use electonic and musical processes to reconcile the spirit and the body.
Date: 19 June 2012
Venue: Cafe OTO, 18-22 Ashwin Street,London E8 3DL
Tel: 020 7923 1231
Email: john@cafeoto.co.uk
Web: http://www.cafeoto.co.uk/masaki-batoh.shtm
Admission: £10 adv / £12 on the door
Organiser: Cafe OTO