Masuda String Puppeteers: Shimane Prefecture's Edo Period String Puppetry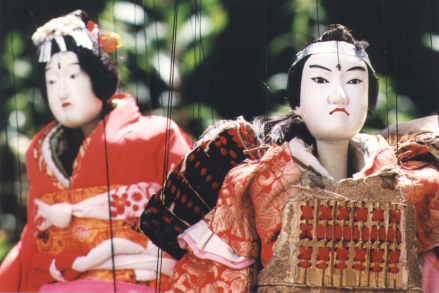 Ningyo Joruri (traditional Japanese puppet theatre) is best known for Bunraku, conceived in the Edo Period (1615-1868) and performed by a male puppeteer directly handling puppets from behind. However, few people know that string puppetry was also popular during the Edo Period. In Shimane Prefecture alone, there were several groups performing string puppetry throughout this era, often entertaining pilgrims visiting Izumo Taisha Shrine. These performances in the Izumo Region date back to 1652, but died out at the outbreak of World War II.
Today, Edo string puppetry can be seen at Yuukiza and Takedaza theatres in Tokyo; however, these shows are staged in a modernised format, drastically altered from the original. In contrast, The Masuda String Puppeteers' style is the only surviving Edo Period style string puppetry currently performed in Japan, using an Edo-era puppet stage with Gidayu-style narration.
The Masuda String Puppeteers will give their first overseas performance as part of the 'V&A Japan Festival for Families' events day on 1 May 2016. Before their premiere international show in London, they will demonstrate their intricate puppet handling here at the Daiwa Anglo-Japanese Foundation. Join us to hear about the history of Masuda String Puppets and to see a glimpse of the puppets in action.
Date: 28 April 2016, 6.00pm
Venue: Daiwa Foundation Japan House, 13 – 14 Cornwall Terrace, London NW1 4QP. Nearest tube: Baker Street
Tel: 020 7486 4348
Email: office@dajf.org.uk
Web: http://www.dajf.org.uk
Organiser: The Daiwa Anglo-Japanese Foundation