Mee Hyun Oh (violin) with Grace Yeo (piano)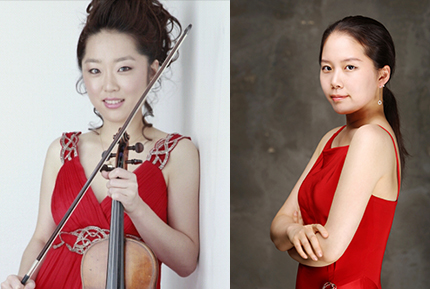 Ludwig van Beethoven: Sonata for Violin and Piano
1. Allegro
2. Adagio molto espressivo
3. Scherzo : Allegro molto
4. Rondo : Allegro ma non troppo
Claude Debussy: Sonata for Violin and Piano
Allegro vivo
Intermède: Fantasque et léger
Finale: Très animé
Camille Saint-saëns:- Introductio et Rondo capriccioso
Mee Hyun Oh was born in South Korea and began her musical studies by learning the piano at the age of four. It was not until she was thirteen that she started to study the violin. Just one year later, she won the prize at the Ulsan Educational Institution. In 2004, she graduated Kewon High School of Arts. As a student there she played with the school orchestra at Seongnam Art Centre in South Korea.
Mee Hyun is currently based in Great Britain where she completed the Bachelor's Degree and MA performance degree at the Royal Academy of Music with Professor Tomatada Soh.
She has participated in many master classes, including Tasmin Little, Sibvia Rogenburg, Itzhak Rashkovsky, Thomas Brandis, Alexander Pavlovic, Max Zorin, Jasna Maksimovic and Zvi Zeitlin.
She won 1st prize at the North London Music Festival in 2011 and several competitions. Also She has appeared as a soloist and an ensemble players in many venues.
Grace Yeo was born in Seoul, Korea and commenced her piano studies at the age of four. She then went on to the Yewon School and Seoul High School of Arts whilst appearing frequently as a soloist in Korea. In 2004, she began her undergraduate studies with Professor Hie-Yon Choi as a scholarship student at the Seoul National University and she was invited to perform at the Young Artists Concert Series in Seoul.
In 2008, she was awarded the 'Barbara Stringer Scholarship' for postgraduate studies in London at the Guildhall School of Music and Drama where she entered the classes of Ronan O'Hora and Joan Havill.
Grace was a major prizewinner in many competitions including the C.Bechstein-Samick Piano Competition in Korea 2006, the First Prize and Audience Prize in the Beethoven Society of Europe's Piano Competition in London 2009, the Norah Sande Award Competition 2010, the 'Premio Speciale Rosa Logrieco' Beethoven Prize at the Arcangelo Speranza Competition, Italy 2011 and the Hastings International Piano Concerto Competition 2012.
She has given many solo recitals in London venues. Major performances have included December 2011 at the Royal Festival Hall, courtesy of the Philharmonia Orchestra/Martin Musical Scholarship Fund, and most recently in November 2012, a debut recital at the Wigmore Hall, supported by the Kirckman Concert Society and in December 2012, a debut recital at Purcell Room, Queen Elizabeth Hall. Other highlights include piano concertos to capacity audiences in the Prom Praise Concerts with All Souls Orchestra at the Royal Albert Hall(Beethoven's Emperor Concerto in 2012 and Grieg Concerto in 2010) and Birmingham Symphony Hall(Rachmaninoff's Second Concerto in 2011). Most recently Grace has performed in the Yamaha Concert Hall, Vienna and has played live on BBC Radio Three's 'In Tune'.
Her future concert engagements in 2013/14 throughout the UK and France include solo recitals at the Manchester Bridgewater Hall supported by Manchester Mid-day Concert Series, Kirckman Concert Society, Hastings Music Festival, Bluthner Piano Centre and the Philharmonia Orchestra/Martin Musical Scholarship Fund.
Grace is grateful for the invaluable support during her studies from the Leverhulme Trust, the Craxton Memorial Trust, the Marjorie & Dorothy Whyte Memorial Fund, the Kirckman Concert Society and the Philharmonia Orchestra/Martin Musical Scholarship Fund.
Date: Wed June 26th 2013, 1:10pm
Venue: St. Sepulchre, the Musicians Church, Holborn Viaduct, London EC1A 2DG
Organiser: The Anglo-Japanese Society of Wessex