Meiji Nostalgia: Prints by Kawakami Sumio (1895-1972). Monika Hinkel: Research Associate, The Japan Research Centre, SOAS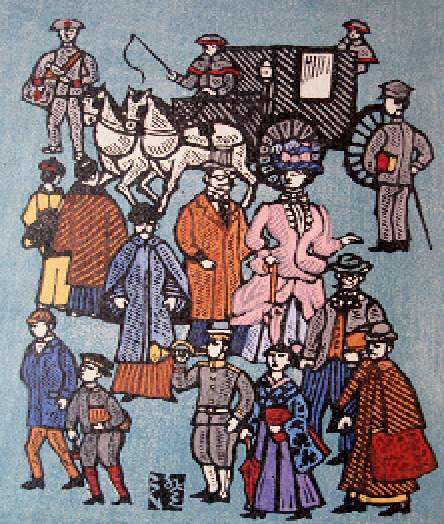 Date: Monday 21 November, 6.45pm
Venue: The Oriental Club, Stratford House, 11 Stratford Place, London W1C 1ES
The interaction between foreign cultures and Japan was a continuous interest within Kawakami Sumio's work. Kawakami, a self-taught printmaker who was born in the Western-influenced city of Yokohama depicted this world, especially the foreign tradesmen and westernized Japanese of the early Meiji period. Another favourite and recurring topic in his oeuvre was nanbanjin (southern barbarians) illustrating even earlier European encounters with Japan.
His printmaking activity began in earnest after the 1923 Kanto earthquake. While his early colour prints were from multiple blocks, in his later years he often printed single blocks in black, adding colours by brush. He was involved in various sōsaku hanga (creative print) societies, exhibited in annual print shows, contributed to collaborative print series and published his prints in magazines. Throughout his artistic career as a printmaker, his style retained an amateurish look while referencing Western and Western-influenced graphic predecessors.
This talk will introduce his Meiji-period inspired woodcuts and the themes of Western customs and cultural enlightenment that he depicted. Moreover, the presentation will examine the Meiji period prints and objects that actually served as stimuli for Kawakami's work to portray where his fascination with and longing for Meiji culture originated.
Dr Monika Hinkel is a Research Associate of the Japan Research Centre at SOAS, University of London and lectures for the Diploma in Asian Art courses. Before moving to London in 2004, she worked as assistant curator for Japanese Art at the Museum of East Asian Art in Cologne and held the position of guest researcher at Gakushuin University in Tokyo. She received her PhD from Bonn University in 2006.