Midori Komachi Solo Violin Recital: A Journey through Japanese and Western Roots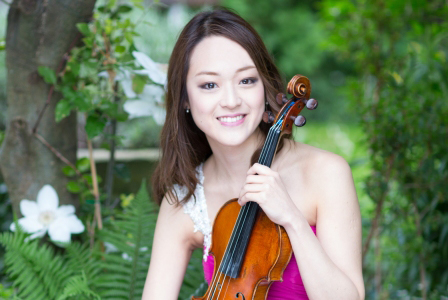 Midori Komachi will perform works for Solo Violin, exploring Japanese and Western connections. She will perform works by Bach, Ysaÿe and leading composers of today such as Toshio Hosokawa, Joji Yuasa, Toshi Ichiyanagi and Paul Patterson. Komachi has worked closely with many Japanese and British composers, and in this recital, she will demonstrate ways in which these composers have opened doors to a new world of sound for the violin. We are also delighted to announce that Toshio Hosokawa's 'Spell', which Komachi recently performed for the composer's 60th Anniversary Concert in Japan, will have its UK Premiere at this event.
Doors will open at 6:30pm.
Midori Komachi is a Japanese-born violinist who performs as a soloist and a chamber musician extensively throughout Europe and Japan. Midori studied in Basel, Switzerland at the age of 12 where she was accepted exceptionally as a "Young Talented Student" at the Basel Music Conservatoire. Subsequently she made her debut as a soloist with the Zurich Chamber Orchestra. Since then she has appeared in many prestigious venues, including Tonhalle Zurich, Tokyo Opera City Hall, Muza Kawasaki (Japan), Philharmony Warsaw, Wigmore Hall, St.George's Bristol, Rector's Palace (Croatia). She completed her Master of Music degree with Distinction at the Royal Academy of Music in 2012.
Midori is a recipient of numerous prizes such as the Max Pirani Prize, Sir Arthur Bliss Prize, the Friends of RAM/Honorary Patrons' Development Award and MBF Emerging Excellence Award. She has also been broadcast live on BBC Radio 3 'in Tune' along with the release of her acclaimed debut CD 'Colours of the Heart' (2014). Since 2012, Midori has developed a cultural exchange project in UK and Japan, introducing works by composers from both countries.
Date: 28 June 2016, 7:00pm
Venue: Daiwa Foundation Japan House, 13 – 14 Cornwall Terrace, London NW1 4QP
Tel: 020 7486 4348
Email: office@dajf.org.uk
Web: http://www.dajf.org.uk
Organiser: The Daiwa Anglo-Japanese Foundation