'MINDSCAPE': Luna Jungeun Lee Solo Exhibition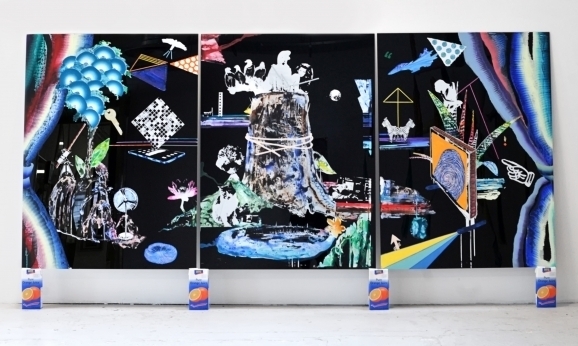 The habit of gathering random images allows me to indentify my position with the world and makes me reflect back to my delicate existence in the ephemeral dreams of everyday life.
Luna Jungeun Lee was born in 1985, Seoul, Korea. She received her BFA in Fine Art from Kook-Min University, Seoul in 2009, followed by a Masters in Fine Art at Goldsmiths College, London in 2011.
Her work has been short-listed for the Clifford Chance Post-Graduate Printmaking Prize in 2011, and became the People's Choice Winner of the Shape Open Art Prize in 2012. Recently, her work has been final-listed for the Gilchrist-Fisher Award in 2014.
She had an Artist Interview with Saihee Shon supported by British Council of Korea. She took part in the Artists Residency, The Many Studios in Glasgow from 2012-2013, The Florence Trust in London from 2011-2012 and The Artexperte, Buenos Aires, Argentina in 2010. Her work has been exhibited in China, Germany and throughout the UK – including the Royal Academy of Art's Summer Exhibition.
She currently divides her time between her studio in Seoul and London. For more information, visit www.lunalee.kr
Luna Jungeun Lee's work creates a world of multiple layers on acetate and perspex, taking us on a journey in search of what identity and perception truly mean.There is an admirable coherence in Lee' career both on a aesthetic and technical level. From the study of the human face in the early pieces, towards the analysis of the sense of community and the obsession with technology of the latest work, Lee has always focused on turning the immaterial into material.

Her pieces are and want to be physical objects. Her montages are composed by virtual images filtered by Lee' s talent and craftwork in order to become a 'mind landscape' where the viewer will be confronted by their reflection, lost in this postmodern visual labyrinths.

When the work of an artist grows up following the personal growth of the artist herself, well: that certifies that something meaningful is happening, a genuine drive to offer the viewer a real aesthetic experience. Lee's recent interest in socio-political matters – mainly related to her country of origin, South Korea – testifies a human and artistic maturity.

That is her work, it is a filter to broaden our own personal vision of what is happening around us in the very moment we are looking at that art piece itself. Lee's art is one of the less egotistic forms of art. It is a genuine act of sharing an honest knowledge of what art should be about, some very vulnerable emotions, and hidden truths within our global community.

Lee uses a dictionary of random contemporary images and signs belonging to her artistic identity that lead us through a stream of consciousness the net and media provides her – upon deciding to follow her on that journey it soon becomes apparent that one has crossed the divide between subjective perception and objective reality.

Diego Borella
Author / Director
2013
about 'The Muse at 269' Gallery / Studio
was established in 2003 to support emerging artists, by combining creative and commercial elements under one roof. They host an eight month residency program offering a free interim platform for post-graduate arts practice.
During the residency successful applicants are supported in a group and solo show with opportunity to work with contemporaries and more established artists showing in the gallery. http://www.themuseat269.com
Date: 10th – 27th of October
Venue: The MUSE at 269, 269 Portobello Road, London W11 1LR