Miso: A Versatile Ingredient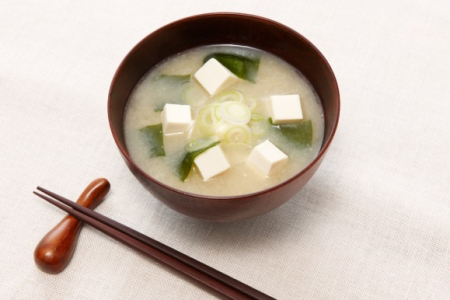 Thanks to the ever growing popularity of Japanese cuisine worldwide, miso soup is well-known- however, the real value of miso is still not very much appreciated yet in the UK. Miso (a fermented paste made from soybeans), is so versatile that it can be used as a base seasoning in variety of dishes- not just in soup- as a sauce, dressing and even marinade.
Miso is also considered to be good for you for many reasons. It is a cultured and fermented product made of soy that helps digestion with the presence of Lactobacillus acidophilus (the good kind of bacteria also found in yogurt), and has been found to be full of lecithin and linoleic acid, as well as being high in protein.
It is believed to be effective in treating some forms of cancer, heart disease and reducing the possibility of developing stomach ulcers. Japanese people enjoy one of the longest life expectancies in the world, and Nagano Prefecture has the highest life expectancy in the country. Nagano is also the biggest producer of miso in the country, and some links have been made to suggest that the ingredient is essential for a diet conductive to long life.
Washoku (traditional Japanese cuisine) was declared an Intangible Cultural Heritage by UNESCO last year. The basic tenet of Washoku is "Ichi Ju, San Sai", i.e. one soup and three dishes, with miso soup taken as an essential part of any meal. For this event, we will explore the history of cooking with miso and there will also be a tasting of some dishes using miso that you can try to make at home.
Marukome Anime Campaign
*Please note that this event will begin at 3pm
Date: 16 April 2015, 3.00pm
Venue: Daiwa Foundation Japan House, 13/14 Cornwall Terrace, Outer Circle, London NW1 4QP
Tel: 020 7486 4348
Email: office@dajf.org.uk
Web: http://www.dajf.org.uk/event/miso-a-versatile-ingredient
Organiser: The Daiwa Anglo-Japanese Foundation