Miss Revolutionary Idol Berserker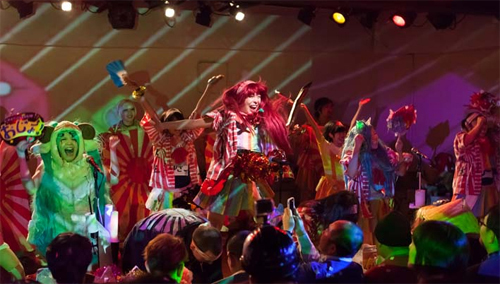 Orchestrated by Tokyo-based artist and pop-idol Toco Nikaido, this is Japanese subculture conveyed in all its multi-coloured, cacophonous, frenetic glory.
Prepare to be equipped with a rain poncho and earplugs as twenty-five performers swarm the stage at breakneck speed, armed with an abundance of disposable props and subcultural references. In a frenzied homage to otagei, (ritualised dancing and chanting by groups of fans) this riotous company hurtle towards a festival-like finale that invites everyone to take part.
Admission: £9 – £18
Date: 22 June – 2 July 2016
Venue: Barbican- The Pit, Silk Street, London EC2Y 8DS
Web: http://www.barbican.org.uk/theatre/event-detail.asp?ID=18774
Organiser: Toco Nikaido and Miss Revolutionary Idol Berserker. Presented by LIFT festival and The Barbican