Mizuki String Quartet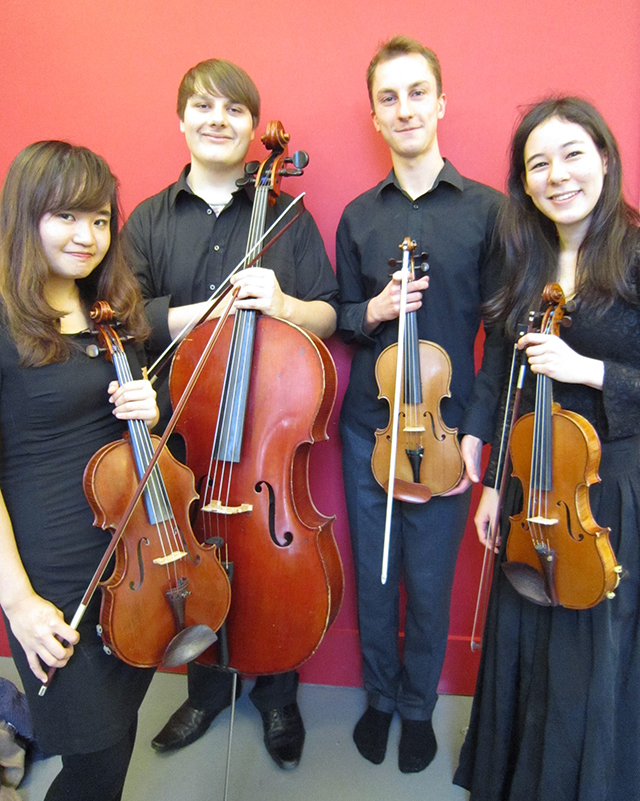 Programme:
Haydn String Quartet No.1 in B minor:
Allegro moderato
Scherzo – allegro di molto
Andante
Presto
Elgar String Quartet in E minor op. 83:
Allegro moderato
Piacevole (poco andante)
Allegro molto
Artist info:
Julia Hart – Violin 1
Julia is currently in her 4th year of a BMus degree at Trinity Laban Conservatoire of Music and Dance where she studies the violin. Her teacher is Diana Cummings. Before coming to Trinity Laban Julia was taught by Estzer Boda-Katona. Her most recent performances were Beethoven Sonata no. 6 in the King Charles Court Chapel last December and her violin saxophone duo recital at St. Sepulchre in Holborn. For Julia, playing the violin offers a never-ending stream of possibilities to explore variations in expression and interpretation, according to the historical period, place and performer. She finds the dynamic and diverse options exciting and they give her a reason to believe that the art of performance is a lifelong project.
Carl Bradford – Violin 2
Carl began playing the violin at the age of seven and his musical interest has continued to flourish ever since. Before accepting a place at Trinity in 2010, he studied at the East Sussex Academy of Music in Lewes, where he was leader of the ESAM Orchestra. He is now a fourth year undergraduate studying with Professor Diana Cummings. He has performed at renowned venues such as The Royal Albert Hall, but more recently The Queen Elizabeth Hall as part of Trinity Laban's String Ensemble. He was a finalist of the Vera Kantrovich Solo Bach Prize in 2012 performing Partita No.3 in E major. He has a passion for chamber music and recently performed as part of a string trio at Greenwich Christ church. He also enjoys teaching violin and is enrolled on a teacher training programme at Trinity. Carl plans on furthering his study with a postgraduate qualification in London.
Sue Yeon Lee – Viola
Sue Yeon Lee was born in South Korea and moved to England at the age of eight where she now resides. Only having learnt the viola for two years, she gained distinctions in both grade 8 viola and violin in 2009 and learnt to play some renowned viola repertoire such a Viola Concerto by Walton, Arpeggione by Schubert and Sonata in E-flat by Brahms. With regard to chamber music, Sue has performed various repertoires including Dvorak string quintet op.77, playing piano in Schubert's Trout Quintet, viola in Shostakovich's string quartet op. 110 , leading the Borodin piano quintet and the Beethoven Septet. She reached the finals of Pro Corda ensemble competition and won first place in the ensemble category at Oxford Music Festival, performing first movement of Mozart's Kegelstatt.
Sue is currently in her final year studying Bachelor of Music degree at Trinity Laban Conservatoire of Music and Dance with Matthew Jones.
Tom Oldfield – Cello
Tom Oldfield is a cellist based in London, currently studying with Naomi Butterworth at Trinity Laban Conservatoire of Music and Dance. Originally from the midlands, Tom gained experience in CBSO youth orchestra whilst under Richard Jenkinson. In 2013 Tom featured in a master class with international cellist Mathew Barley and is regularly involved in chamber music, orchestral and recording work. Working with orchestras such as YMSO, LAO and Orion, Tom recently toured in Guernsey and at the Aberystwyth music festival.http://tom-oldfield.tumblr.com
Date: Fri Feb 7th 2014, 1:10–2:00 pm
Venue: St. Sepulchre, the Musicians Church, Holborn Viaduct, London EC1A 2DG
Tel: 020 72374445
Email: godfreyking316@btinternet.com
Web: www.ajsw.org.uk
Organiser: Anglo-Japanese Society of Wessex