Mme Butterfly: what happened next, with Ignacio Jarquin and Chris Roberts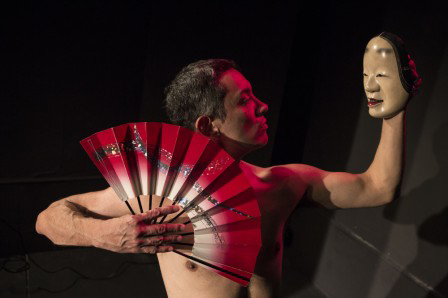 Ignacio Jarquin joins the Japan Society to discuss and perform excerpts from his stunning show Mme Butterfly – The One Man Opera.
Behind the sweeping emotionalism of Puccini's popular tragedy Madama Butterfly lies a real-life drama of imperialism and sexual exploitation amid the grittiness of late 19th century Nagasaki. Set thirty years after the end of the iconic Puccini opera, which leaves a mixed race child abandoned by its mother and father, Ignacio's new work seeks to answer the question, 'What happened next?'
Mme Butterfly – The One Man Opera brings together nihon buyo, noh and a contemporary operatic score by doyen British composer Michael Finnissy to depict Madame Butterfly's son in his journey to America in search of his father, now the Governor of Georgia and engaged in a fight for re-election.
Ignacio will discuss how Mme Butterfly – The One Man Opera uses traditional Japanese music, dance and drama to explore an iconic story that belongs fundamentally to Western cultural archetypes, and will draw parallels between Puccini's opera and Michael Finnissy's wonderful new score. He will also be joined by historian Chris Roberts, who will discuss the sociocultural environment in which the Butterfly story was born.
Ignacio Jarquin was born in Mexico City, and studied music at the Vienna University for Music and Performing Arts and the Vienna Conservatory. In 1991 he obtained his diploma as Orchestra Conductor with distinction, and made his professional debut at the Stadttheatre, St Pölten. He subsequently worked at the Atelier d'Art Lyric of the Conservatoire National de Musique et de Danse de Paris, and later became the musical director of a Paris based independent opera company and orchestra. He has worked as a musical director for France's TF1, and has conducted the Orchestra and Choir of Radio Netherlands, Paris Symphonic Orchestra, Spanish National Symphony Orchestra, Cairo Opera Orchestra and Choir and Bangkok Symphony Orchestra. Since moving to the UK in 2001, he has directed several choruses, developed his career as an actor with Brighton's Prodigal Theatre Company, and collaborated in several one man shows with writer Andrew G Marshall.
Chris Roberts is a retired British lawyer, who practised in Japan. His book The British Courts and Extra-territoriality in Japan, 1859-1899 explored the British courts that operated in Japan under the terms of the 1858 Treaty, and he has contributed a number of chapters on British judges and lawyers to the Japan Society's Biographical Portraits series.
Date: Wednesday 30 September 2015, 6.45pm
Venue: The Swedenborg Society, 20-21 Bloomsbury Way, London WC1A 2TH