Modstock – 50 Years Of Mod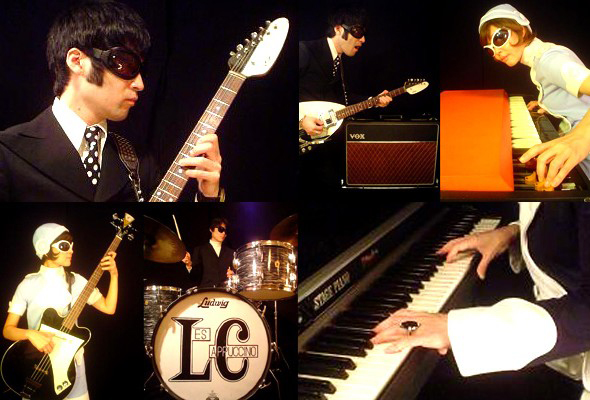 Japanese band LES CAPPUCCINO are to headline theSunday night at the four day festival in London celebrating 50 years of Mod Culture.
Les Cappuccino were formed in late 1995 by Tommy (guitar) and Marie (organ) in Kobe in Japan, inspired by Jimmy Smith, Booker T, Manfred Mann and J.T.Q. A year later they got a bass player when Chiggy joined.
They reproduce perfectly the sound of British & French 60′s pop and their looks are just a slip away from the Courrèges catwalk. This group brings a perfect "Mods" balance to the Pop scene and are considered the most interesting group of the Mod Sixties scene in Japan. The band has been playing at lots of Japanese mod/sixties events – Mods Mayday in Osaka, Kyoto, Nagoya, and Fukuoka and March of The Mods in Tokyo since they were formed.
The album "French Madison" was released by the Mad French label. In 2002, "French Madison" came out in Europe and Alex Cooper, from Los Flechazos, the face of Spanish Mod scene, discovered the album. With his enthusiastic invitation, Les Cappuccino joined "Purple Weekend" in 2002 and after great success in Europe, they were known by high-flying British Mods, including Rob Bailey. Their "French Madison" takes off again as "Ultra Kitsch" with an international release by FGL Productions, and they went to French tour in 2003.
In 2004, they played at Modstock 2 in London where they had great success when The Action played on the same night. Their legendary stage performance made the audience go wild. After the performance, the popularity of the band spread by word of mouth and, in 2005, they released a 7″vinyl with the Detour Records Company. A compilation album was later released by Acid Jazz Records. The band are currently based in Nara and, even today, they still manage to produce solid, modern stage performances as they are still going strong and continue to be admired by the Japanese mod community.
Admission: £12 / £15
Date: 20 April 2014
Venue: 229 The Venue, 229 Great Portland Street W1W 5PN
Tel: 07740290992
Email: drrobert@btinternet.com
Web: http://www.newuntouchables.com