MOMO KODAMA – Piano Recital at the Wigmore Hall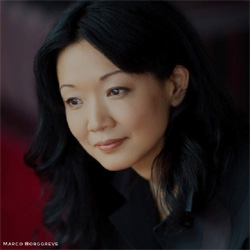 Born in Osaka and raised in Germany, Momo Kodama studied with Germaine Mounier at the Paris Conservatoire before establishing her career in the 1990s.
Her wide concert repertoire encompasses the great keyboard works of Bach and Beethoven and embraces exquisite new scores by Misato Mochizuki and Toshio Hosokawa. This recital turns to the fertile ground of the keyboard 'study', opening with Bach's three-movement concerto 'after the Italian taste', before charting the multi-layered soundworlds of Hosokawa's entrancing Etudes.
Course fee: £15 £20 £25 £30
Date: 6 Apriol 2014, 7.30pm
Venue: Wigmore Hall, 36 Wigmore Street London W1U 2BP
Email: boxoffice@wigmore-hall.org.uk
Web: http://www.wigmore-hall.org.uk/whats-on/productions/momo-kodama-piano-33074
Organiser: WIGMORE HALL