Morimoto Sisters "Tohoku" Sing for Japan, Remembering Japan disaster 2011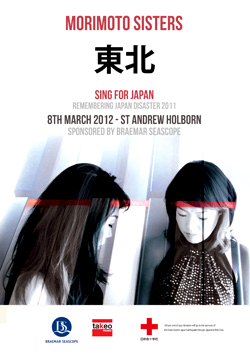 Date: 8 March 2012
Venue: St Andrew's Church Holborn, Holborn Viaduct, London EC4A 3AB
Organiser: Braemar Seascope Ltd
A concert of commemoration given by the Morimoto Sisters, singing classical Japanese songs and various operatic arias.
The concert is to be free, but donations for the Japanese Red Cross Society will be collected.
The concert is sponsored by Braemar Seascope for the Japanese Shipping Community based in London.
This event is by invitation only.