Mugenkyo Taiko Drummers Autumn UK Concert Tour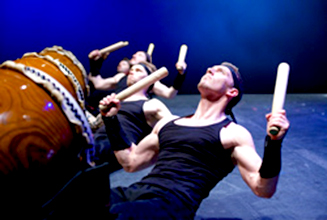 2014 marks the 20th anniversary of the formation of Mugenkyo; two decades of rigorous touring, performing and teaching which have cemented their place as one of the most successful and enduring Taiko groups in Europe.
This latest show, which attracted a host of five star reviews at the Edinburgh Festival last August, will feature mysterious masked choreography interwoven with an almighty musical force that will leave the unforgettable feeling of rhythm pounding through your chest for weeks to come. Mugenkyo's modernisation of the ancient art of Taiko is encapsulated in a spellbinding display of sheer athleticism and pure energy.
Date: 7 – 25 October 2014
Venue: Various
Tel&Fax: 01357 522 008
E-mail: mtd@taiko.co.uk
Web: http://www.taiko.co.uk
Organiser: Mugen Taiko Dojo Productions