Nama Ato: Japanese Outsider Art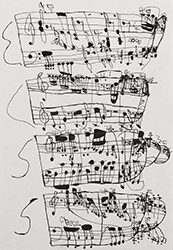 Nama Ato: Japanese Outsider Art is a touring exhibition of three Japanese visual artists whose work is being presented in the UK for the first time. Unlimited, in partnership with Outside In and Pallant House Gallery, will tour this work to four venues.
Koji Nishioka's intuitive musical scores are related to existing pieces of music, but which a pianist may not easily read; Makoto Okawa's colourful drawings and felt 'Makoot' dolls, born from his imagination, depict happiness, sadness and pleasure; and Yasuyuki Ueno's work shows a world where preconceived notions of female characters and fashion objects are challenged. All of the artists have learning disabilities, and are supported by Atelier Corners in Osaka, Japan – an organisation supporting disabled artists to realise their potential and express their individualities.
Tour Dates
Pallant House Gallery, Chichester: 3 – 29 August 2016
Southbank Centre, London: 6 – 11 September 2016
The Tramway, Glasgow: 15 – 25 September 2016
The Attenborough Arts Centre, Leicester: January 2017 (dates TBC)
Admission Free
Date: 3 – 29 August 2016
Venue: Studio, Pallant House Gallery, 9 North Pallant, Chichester, PO19 1TJ
Web: www.outsidein.org.uk/Nama-Ato
Organiser: Outside In