Nana Shiomi – Reverse: Universe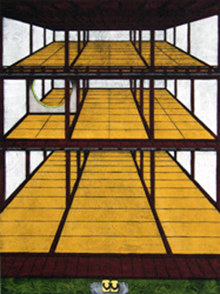 A Scottish premiere solo exhibition of prints by Japanese artist Nana Shiomi. This exhibition includes new work commissioned and published by Edinburgh Printmakers.
This exhibition will be Shiomi's first solo exhibition in Scotland and showcases her recent achievement as a printmaker. As a Japanese artist who has been living and working in the UK, Shiomi has discovered that Printmaking is a perfect vehicle for her message. Shiomi's method of Woodcut print is based on the traditional manner of woodcut print with water-soluble pigments onto fine, highly absorbent paper using a variety of hand printing methods. This element permeates through the work, influencing subject, style and approach in ways careful examination will reveal. The most important aspect of this exhibition will be the introduction of this rare method of printmaking to Edinburgh Printmakers' audiences in Scotland.
As an artist who was born after Marcel Duchamp, Shiomi considers her work to be conceptual, using Japanese traditional imagery to express her message and philosophy. Shiomi expects that the audience will discover a new understanding of this world of Japanese imagery through her new works.
Date: 20 September – 1 November 2014
Venue: Edinburgh Printmakers, 23 Union Street, Edinburgh, EH1 3LR
Tel: 0131 557 2479
Email: info@edinburghprintmakers.co.uk
Web: www.edinburghprintmakers.co.uk
Organiser: Edinburgh Printmakers