Nao Maebayashi – piano recital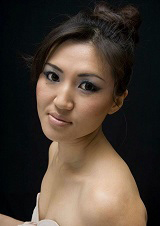 Programme:
Mozart: Sonata Piano Sonata No 8 in A minor KV310:
was written in 1778 and consists of three movements:
1. Allegro maestoso,
2. Andante cantabile con espressione, F major.
3. Presto
Franz Liszt : Concert study in D flat major "Un sospiro"
(featured in the film 'Song Without End)
Debussy 'Pagodes' from Estampes:
Pagodes evokes images of East Asia. It makes extensive use of pentatonic scales and mimics Chinese and Japanese traditional melodies while also incorporating hints of Javanese Gamelan Percussion
Karen Tanaka Movements II & I from Techno Etude:
born in Tokyo now living in Los Angles, California, Karen Tanaka is an exceptionally versatile and gifted composer and pianist with her works played by leading orchestras in Japan and the USA.
Artist info:
Nao Maebayashi studied with Alexander Kelly, former professor at The Royal Academy of Music, before entering The Trinity College of Music. Nao continued her studies with Douglas Finch, where she was awarded a Batchelor of Music degree. She completed a Master of Music degree under the guidance of Raphael Torroni at The London College of Music. Thereafter, she focused on contemporary piano repertoires. Since then Nao has won several prizes and was awarded a scholarship to study at Chetham's International Summer School with Yonty Solomon and Peter Donohoe. Her teachers have included, Philip Mead, Julian Jacobson and Noriko Ogawa.
Since 2010 Nao has performed with a contemporary ensemble group, Metapraxis ensemble. They have performed at the Guildhall New Music festival, Soundscapes of East London, the World Listening Project at Café Oto and Researching the Arts conference at Brunel University.
Nao also performs solo and in piano ensemble groups. Her appearance includes, New Quay Concert hosted by Elena Riu, St George's, Bristol and St James' Church, London.
Nao currently dedicates herself to performing in solos and for piano 4 hands whilst teaching at Junior Guildhall and Gordon's School in Woking.
Date: Tue Aug 23rd 2016, 1:15–2:00 pm
Venue: Bristol Cathedral, College Green, Bristol, BS1 5TJ
Tel: 020 72374445
Email: godfreyking316@btinternet.com
Web: www.ajsw.org.uk
Organiser: Anglo-Japanese Society of Wessex