Nihongo Cup: The Japanese Speech Contest for Secondary Schools in the UK Finals Day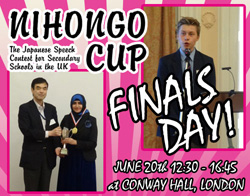 Come and see the UK's most talented young students of Japanese language at the Finals Day of the Nihongo Cup – the Japanese Speech Contest for Secondary School Students!
Students from all levels of secondary education – Key Stage 3, Key Stage 4 and Key Stage 5 – will showcase their amazing talent and hard work in their Japanese language studies while competing for some fantastic prizes – including a trip to Japan!
For the first time, the Finals Day is fully open to the public, so don't miss out this chance to see the UK's biggest Japanese speech contest for secondary school students. The contest will be followed by a reception, giving you a chance to meet the students.
Free entry, no booking required (seating first come, first served). The venue will open from 12:00 for a prompt 12:30 start, and early arrival is advised.
Date: 20 June 2015
Venue: Conway Hall, 25 Red Lion Square, London WC1R 4RL
Tel: 020 3102 5021
E-mail: info.language@jpf.org.uk
Web: http://www.jpf.org.uk
Organiser: Association for Language Learning (ALL) and Japan Foundation London