Ninagawa Company's Hamlet at the Barbican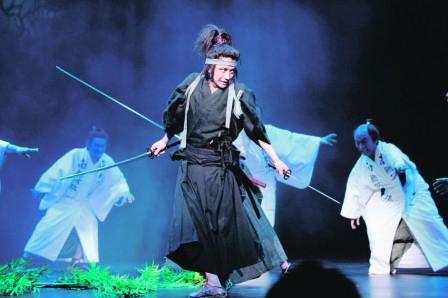 The Japan Society is delighted to be able to offer a limited number of discounted tickets for the Ninagawa Company's productions of Hamlet and Haruki Murakami's Kafka on the Shore at the Barbican. These ticket prices include a 20% discount, and are available only to Japan Society Members, who may apply for up to two tickets per production per membership.
One of our greatest Shakespeareans, Yukio Ninagawa directs his best-loved play, returning to the tragedy that he says 'deals with the world's vastness and depth' once more.
Just over 40 years ago, the Japanese director presented his first Shakespeare play. Since then, his productions have gained international repute for their ability to fuse Japanese and European cultural traditions as well as their ravishing visual impact. Surprises abound in sumptuous interpretations remembered for their emblematic approach and innovation.
In this new version of Hamlet, popular Japanese actor Tatsuya Fujiwara takes the title role. Fujiwara made his stage debut at the Barbican under the direction of Ninagawa in 1997 and six years later became the youngest Hamlet in Japanese theatrical history, aged just 21. The pair now reunite as part of the director's 80th birthday celebrations.
'Ninagawa's Shakespeare productions have been among the experiences of a lifetime' Guardian
Date: Friday 22 May 2015, 7.15pm
Venue: Barbican Centre, Silk Street, London EC2Y 8DS