Ninagawa Company's Kafka on the Shore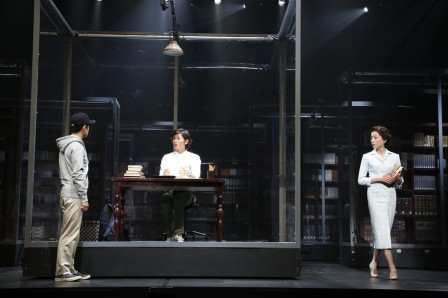 The Japan Society is delighted to be able to offer a limited number of discounted tickets for the Ninagawa Company's productions of Hamlet and Haruki Murakami's Kafka on the Shore at the Barbican. These ticket prices include a 20% discount, and are available only to Japan Society Members, who may apply for up to two tickets per production per membership. When booking, please state what price tickets you would prefer.
Nothing is quite as it seems in this theatrical adaptation of Haruki Murakami's mind-bending novel Kafka on the Shore. Meet 15-year-old Kafka. Accompanied only by an imaginary friend, he's run away from his Tokyo home to escape his screwed-up father and a dark prophecy. Then there's elderly Nakata, seeker of lost cats. Long touched by a mysterious childhood affliction, he now finds himself in need of some divine assistance.
Fateful encounters await as their parallel odysseys converge in modern-day Japan. Here the borders between reality, dream and myth are constantly crossed in this allegorical tale about waking up to your own life.
Setting the epic in a series of multilayered sets, Yukio Ninagawa leads a first-class ensemble including the Japanese Academy Award-winning star of The Twilight Samurai, Rie Miyazawa.
'I was stunned to see that Ninagawa had visualised Murakami's writing style' Yomiuri Shimbun (Japan)
Date: Friday 29 May 2015, 7.15pm
Venue: Barbican Centre, Silk Street, London EC2Y 8DS