Nissan Institute Seminar Series: Michaelmas Term 2013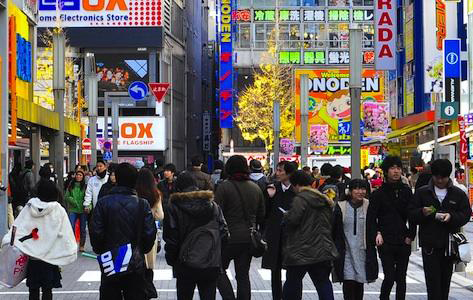 From its start in the 1980s the institute has organised a series of Nissan Seminars in Japanese Studies. We invite scholars based in the UK to present their most recent research. Members of the general public are welcome to attend.
Fridays at 5.00 p.m. in the Pavilion Room, Gateway Building, St. Antony's College, Oxford unless otherwise stated.
Convenors: Professor Ian Neary, Dr Hiroaki Matsuura, and Dr Tuukka Toivonen
Thursday 17th October, Pavilion Room at 2.00pm
Professor Sheldon Garon, Nissan Professor of History and East Asian Studies, Department of History, Princeton University
Transnational History and Japan
Friday 18 October
Dr Alex Jacoby, Oxford Brookes University
Modern Miracles: Koreeda's Kiseki, trainspotting in Kyushu and the 21st-century Japanese family
Friday 25 October
Special Seminar by Professor Naoki Wakabayashi, Faculty of Economics, Kyoto University
Revival of the Japanese Film Industry through Media Mix Promotion Alliances: The Power of Film Production Consortiums
Friday 1 November
Sir David Warren, Chairman, The Japan Society
Britain and Japan; reflections on the bilateral relationship
Friday 8 November
Professor Massimo Raveri, Università Ca' Foscari, Venezia
The search for the "true" body: sacred simulacra of power and the process of modernity in Japan
Friday 15 November
Dr David Ambaras, North Carolina State University
Runaway woman, pirate queen: life on the margins of the Japanese empire
Thursday 21 November, This will be held in the Nissan Institute Lecture Theatre and Foyer from 2.30 p.m. to 6.30 p.m.
A Noh Workshop presented by Prof Yamanaka Reiko of the Hosei University Noh Theatre Research Institute.
A historical, practical and comparative view of noh theatre, including a lecture by Professor Yamanaka, demonstration and workshop by professional noh actors, and a short presentation by the noh actors and a British modern dance artist.
Friday 22 November
Mr Ryu Kojima, Kyushu University
Cultural Diversity and the Law: From the Perspective of Cultural Policy
Thursday 28 November, Nissan Lecture Theatre at 2.00pm
Professor Susan Napier, Tufts University, Medford, Massachusetts, USA
The Last Utopian: Hayao Miyazaki and the Uses of Enchantment
Friday 29 November
Dr Fabian Drixler, Yale University
A Demographic Revolution in Japan
Friday 6 December
Dr Bill Marotti, UCLA
Timely and Untimely Politics: Art and Protest in 1960s Japan
Date: Friday 5:00pm, 17 October – 6 December 2013
Venue: Pavilion Room, Gateway Building, St Antony's College, 62 Woodstock Rd., Oxford
Tel: 018865 274570
Fax: 01865 274574
Email: jane.baker@nissan.ox.ac.uk
Web: http://www.nissan.ox.ac.uk/
Organiser: Nissan Institute of Japanese Studies, Oxford University